Junkyard Palladium Strands Bulls Betting on Demand for Car Parts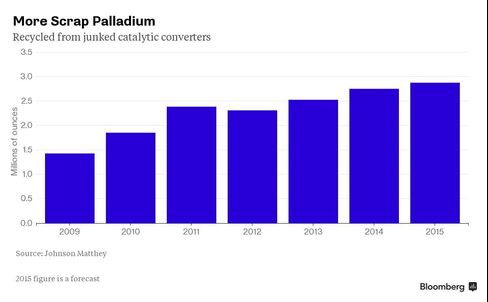 When gold and silver were languishing, precious-metals investors were betting palladium would soar as record car sales boosted demand for catalytic converters.
Turns out, there's more of the metal around with recycled palladium from junked vehicles and rising mine output. For a third straight year, the amount of scrap will the highest ever, accounting for 30 percent of supply, Barclays Plc predicts.
Investors amassed record holdings last August in exchange-traded products backed by palladium, which is used in catalytic converters to reduce harmful tailpipe emissions. Since then, Chinese car sales have slowed, mine output in South Africa will jump the most in three decades, and prices have plunged 21 percent into a bear market at $718.65 an ounce. ABN Amro Bank NV says palladium may slip 9.6 percent further by year-end to $650, the lowest since June 2013.
"There will not be a huge increase in demand on a net basis since a lot of palladium should come back from the cars that are being replaced," said Donald Selkin, who helps manage about $3 billion as chief market strategist at National Securities Corp. in New York. Selkin, who is underweight in precious metals, said palladium prices will keep falling.
Car Sales
Demand for new cars has sparked an increase in junked vehicles, which recyclers use to recover the few grams of palladium inside old catalytic converters. In the U.S., the largest car market after China, sales last month rose at a 17.8 million-vehicle annualized rate, the fastest since 2005, according to Autodata.
That probably will mean a record 2 million ounces of palladium coming from old cars this year, according to Patrick Magilligan, the head of market research at A-1 Specialized Services & Supplies Inc., a recycler of platinum-group metals based in Croydon, Pennsylvania. Used catalysts will represent a significant supply source, he said.
Combined with used palladium from electronics and jewelry, recycled supplies will jump 4.5 percent this year to 2.87 million ounces, according to London-based Johnson Matthey Plc, which makes about a third of the world's catalytic converters.
Supplies also will get a boost from South Africa, the largest producer behind Russia, after a five-month strike that cut output by the most in more than three decades. With the walkout ended, mines will increase production by 17 percent, the most since 1984, Johnson Matthey estimates. That will trim the global production deficit to a four-year low of 100,000 ounces from a record 1.83 million in 2014, the company said.
Bullish View
Demand is still exceeding supply, which probably will help revive prices again, said Michael J. McMullen, chief executive officer at Billings, Montana-based Stillwater Mining Co., the largest palladium producer in North America. Even after dropping from a 13-year high of $913 in August, futures on the New York Mercantile Exchange are up 46 percent from five years ago.
Some bullish investors remain. Holdings in exchange-traded funds have risen to 91.9 metric tons, up from 65 tons in February 2014, data compiled by Bloomberg show. Goldman Sachs Group Inc. on May 22 reiterated a February recommendation to buy palladium and sell platinum, a companion metal that is sometimes used as a substitute in catalytic converters.
China Slowdown
In China, the world's biggest car market, vehicle sales have slowed with the economy and purchase restrictions this year, while the booming stock market has diverted funds away from auto purchases. Passenger-vehicle deliveries last month rose at the slowest pace for the month of May, according to the Passenger Car Association.
Russia, the largest producer, still faces international trade sanctions related to incursions in Ukraine.
Prices fell to a 16-month low on Wednesday amid concerns that higher interest rates in the U.S. will push prices of all commodities lower. Global supplies, including mines and recycled metal, will jump 4.8 percent to 9.276 million ounces this year, according to Johnson Matthey.
Speculators who in November 2013 were the most bullish since the U.S. government began tracking the data in 2009 have cut their net-long positions in palladium futures by 46 percent to 14,401 contracts, the fewest since December 2012.
"When we hit the highs in 2014, we were in the midst of a perfect storm, with supply disruptions in South Africa, high demand from new ETFs, and threats of sanctions against Russia," said Jonathan Butler, a precious-metals strategist at Mitsubishi Corp. "It will take some doing to get up to those levels again, given the potential for supply from recycling to feed the market."
Before it's here, it's on the Bloomberg Terminal.
LEARN MORE