The 300% Instant Gains on China IPOs Are Suddenly Vanishing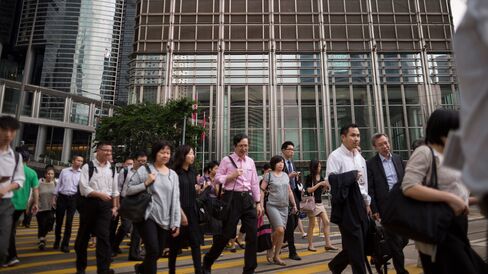 For months, it's been a no-brainer for Chinese investors: buy shares of newly-listed companies, sit back and watch your money grow.
A limit-up gain of 44 percent on opening day was all but guaranteed, thanks to regulatory pressure on companies to keep offering prices low, and it didn't stop there. Half of the initial public offerings this year through mid-May jumped more than 300 percent in their first month.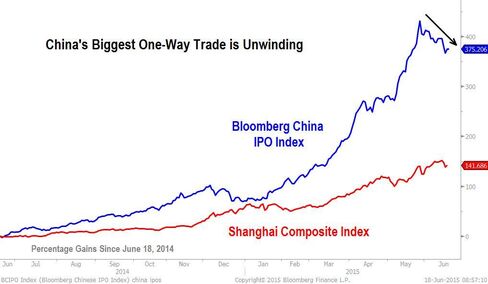 Now, those can't-lose bets are looking vulnerable. The Bloomberg China IPO Index dropped 10 percent from its high on May 27 through Wednesday, while all 10 of this month's worst-performing companies in the benchmark Shanghai Composite Index are IPOs from the class of 2015. Jiangsu Broadcasting Cable Information Network Corp., which peaked at 197 times earnings after 23 straight days of post-IPO gains, has since lost 39 percent.
The turnaround is a sign that China's equity rally has gone too far, too fast as investors lose confidence in some of the market's best performers, according to BNP Paribas (China) Ltd. Even after its recent slump, the Bloomberg China IPO index is up 178 percent this year, versus a 54 percent gain for the Shanghai Composite.
"Investors are becoming more fearful than greedy," said Chen Xingdong, the chief economist and head of macro-economics research at BNP in Beijing. "Stock prices have gone too high despite weak economic growth."
Valuation Concern
Granted, early investors in this year's IPOs are still sitting on gains, with none of the shares having dropped below their offering prices. And if analyst estimates are any guide, investors haven't yet lost appetite for buying into IPOs before they start trading: offerings this week will lure about 6.7 trillion yuan ($1.1 trillion) of bids, according to a Bloomberg survey of forecasters.
"This game is not over yet," said Steve Wang, the chief China economist at Reorient Financial Markets Ltd. in Hong Kong. "People will return to it as market conditions improve."
Skeptics are concerned valuations are overstretched. China's market capitalization has almost tripled in the past year to $9.5 trillion, despite projections for the weakest annual economic expansion since 1990. At 101 times reported earnings, the median stock on mainland exchanges is now more expensive than when the Shanghai Composite peaked in 2007.
Some of this year's new shares are even pricier. Dalian Energas Gas-System Co., which soared 870 percent since listing in April, has a price-to-earnings multiple of 158. Chongqing Zaisheng Technology Corp.'s ratio is 121 after surging 998 percent since January. Both stocks are among the biggest losers in Shanghai this month, with declines of at least 25 percent.
The Shanghai Composite dropped 3.7 percent at the close on Thursday, while the China IPO index sank 4.3 percent.
"The valuation is becoming less and less sustainable," Norman Chan, an investment director at NAB Private Wealth Advisory, said in a Bloomberg Television interview in Hong Kong. "Further upside is limited."
Before it's here, it's on the Bloomberg Terminal.
LEARN MORE