U.K. Consumer Prices Rise as Deflation Proves Short-Lived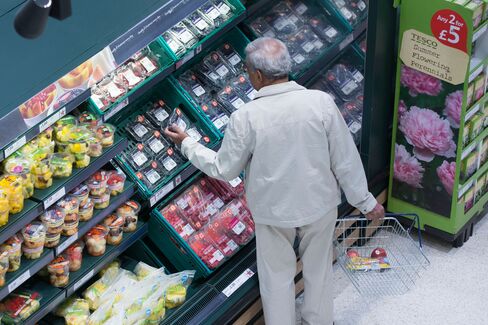 Britain's inflation rate rose back above zero in May, ending the economy's brush with deflation after just one month.
Consumer prices rose an annual 0.1 percent after falling 0.1 percent in April, the Office for National Statistics said in London on Tuesday. The increase, the first in four months, matched the median estimate of economists in a Bloomberg survey. Core inflation accelerated to 0.9 percent from 0.8 percent, missing economists' estimate for 1 percent.
While inflation remains well below the Bank of England's 2 percent target, Governor Mark Carney forecasts that it will pick up later this year and move toward the goal in 2016. The Monetary Policy Committee kept its benchmark interest rate at a record-low 0.5 percent this month and minutes of the meeting on Wednesday will provide an insight into officials' thinking.
"Deflation lasted for just one month but the big picture is that inflation is likely to remain extremely low throughout the rest of 2015," said Samuel Tombs, an economist at Capital Economics Ltd. in London. "The U.K.'s weak inflation outlook is likely to ensure that the MPC keeps interest rates at their record-low level for another year or so."
Price gains have been pushed lower by a drop in oil costs in the second half of 2014, and the BOE says that impact will prove temporary. There was further downward pressure on average prices in April because of falling air and sea fares due to the timing of Easter, ONS statistician Philip Gooding said. That effect was reversed in May.
"In addition, the falls in food and fuel costs over the last year have eased this month, helping to push inflation up," he said.
The pound weakened against the dollar after the data were published and was down 0.2 percent at $1.5568 as of 10:10 a.m. London time.
Food Prices
Food prices rose 0.1 percent in May from April, the first monthly increase this year, the ONS said. From a year earlier, prices dropped 1.8 percent.
The BOE said last month that it forecasts inflation will average 0.6 percent this year and 1.6 percent in 2016, returning to the 2 percent mark in the second quarter of 2017.
Two of the nine MPC members have described recent decisions as "finely balanced." Services inflation -- a key indicator of domestically generated price growth because it's labor-intensive and less affected by oil and exchange rate movements -- accelerated to 2.3 percent in May from 2 percent.
Dan Hanson, an economist at Bloomberg Intelligence in London, said recent data on services inflation is a "reassuring signal that the slippage in headline inflation isn't creeping into wage setting behavior."
Based on a separate measure, the retail-price index, inflation quickened to 1 percent in May from 0.9 percent in April. Separately, the ONS said producer prices rose 0.1 percent in May from the previous month. On an annual basis, the decline eased to 1.6 percent from 1.7 percent.
Before it's here, it's on the Bloomberg Terminal.
LEARN MORE