Libor Brokers Called Hayes Berating 'Very Upsetting' in Messages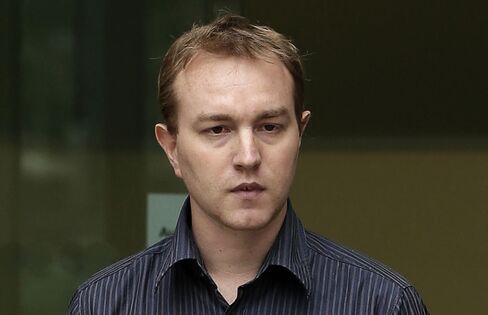 Thomas Hayes, the former UBS Group AG and Citigroup Inc., trader accused of rigging Libor, berated brokers and colleagues when things didn't go his way, according to messages shown to jurors by prosecutors.
Hayes communicated daily with interdealer brokers, colleagues and traders at other banks to push yen Libor rates around to suit his positions, prosecutors told jurors on the 15th day of Hayes's trial in London. If he felt they weren't doing enough, he told them so, transcripts of calls and electronic messages show.
"Tom, don't come down the line shouting the odds," one broker said in a July 2009 online chat after a heated exchange. "I don't need this tirade."
Hayes, 35, is accused of eight counts of conspiracy to manipulate the London interbank offered rate, a benchmark for financial products worldwide.
When Hayes threatened to pull his business, the broker replied "you change like the wind and I find it very upsetting."
"Sometimes you should sit back and take stock a bit," the broker said in the message.
In another online chat earlier that month, Hayes rebuffed a different broker's explanation for why Libor wasn't moving as expected.
"I don't want moaning," Hayes told him. "I want high 3m," a reference to three-month yen Libor.
Read this next:
Before it's here, it's on the Bloomberg Terminal.
LEARN MORE