Bank of Russia Signals Limits to More Easing After Four Cuts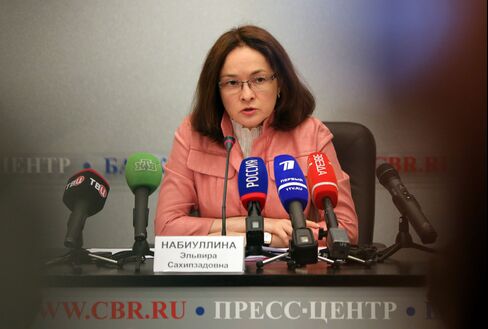 The Bank of Russia said inflation risks will hinder further monetary easing after cutting its key interest rate for the fourth time this year to counter a looming recession.
The one-week auction rate was cut by one percentage point to 11.5 percent, the central bank said in a statement on its website Monday. Twenty-one of 35 economists in a Bloomberg survey predicted the move, with other forecasts ranging from a reduction of 150 basis points to a 50 basis-point cut.
The central bank is fine-tuning its stance after delivering the smallest rate decrease since March as price growth remains almost fourfold its mid-term target of 4 percent. Risks to the inflation outlook mean rate setters have less leeway to offer relief to the economy, which contracted more than previously estimated in the first quarter, according to data released Monday.
Given the magnitude of rate cuts at each meeting this year, the central bank "won't necessarily act in such big steps and not necessarily at each meeting," Governor Elvira Nabiullina told reporters in Moscow after the decision. "Everything will depend on the situation, there's a lot of uncertainty."
The Bank of Russia followed a cut of two percentage points in January with decreases of 100 and 150 basis points at its meetings in March and April.
Ruble, Bonds
The ruble erased declines after the announcement and traded 0.2 percent stronger at 54.6790 against the dollar as of 4:51 p.m. in Moscow. Government ruble bonds due in February 2027 rose, lowering the yield three basis points to 10.63 percent.
Derivatives traders have also scaled back their bets on a decline in borrowing costs. Forward-rate agreements are signaling 45 basis points of decreases in the next three months, the least this year.
"The Bank of Russia will be ready to continue cutting the key rate as consumer-price growth declines further," policy makers said in their statement. "The potential for monetary policy easing will be limited by inflation risks in the next few months."
Under Control?
While Nabiullina has said that inflation is "under control," she's argued against a faster rollback of last year's emergency increase that brought the benchmark to 17 percent. The central bank said on Monday that inflation risks stem from a possible deterioration of external economic conditions, looser fiscal policy, high inflation expectations and changes in the adjustment of state-regulated tariffs and prices planned for 2016-2017.
The world's largest energy exporter will have to endure tight monetary and fiscal policy for years as price growth and pressure on the budget leave little room for a looser stance, according to Finance Minister Anton Siluanov.
Siluanov praised the central bank's move on Monday and said he was hopeful the benchmark rate will be cut further, state-run RIA Novosti reported.
Inflation, which soared to a 13-year high of 16.9 percent in March from a year earlier, eased to 15.8 percent in May. The central bank said on Monday that it estimated price growth at 15.6 percent as of June 8.
Nabiullina said inflation will slow to about 11 percent by the end of the year and be near its 4 percent target in mid-2017.
"There are inflation risks, and we'll monitor how economic processes unfold," Nabiullina said. "At the moment, based on our forecasts, we see that we'll continue to decrease the key rate. But we aren't ready to speak about the magnitude and the pace."
'Economic Cooling'
As the central bank adjusts policy in response to inflation, it also said Russia is facing "further economic cooling." Gross domestic product will shrink 3.2 percent this year, compared with an earlier forecast for a contraction of as much as 4 percent, policy makers said. The economy will expand 0.7 percent next year if oil prices recover to $70 a barrel by late 2016, according to the central bank.
GDP contracted 2.2 percent in the first quarter from a year earlier, the first drop since 2009 and down from a previous estimate for a 1.9 percent decline, the Federal Statistics Service in Moscow said on Monday. The economy will contract about 4 percent in the second and third quarters, according to Bloomberg surveys.
"Better inflation behavior was one of the main reasons behind the decision," Oleg Kouzmin, a former central bank adviser who's now an economist at Renaissance Capital in Moscow, said by e-mail. "The central bank highlighted that the balance of risks has skewed more toward a pronounced cooling of the economy as inflation risks eased further."
Before it's here, it's on the Bloomberg Terminal.
LEARN MORE