Gilded Age of Art Draws Billionaires to Basel Fair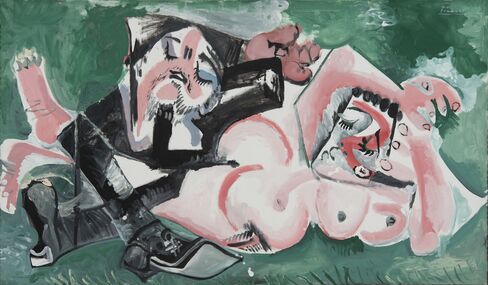 Billionaire hedge fund manager Dan Loeb and Lightyear Capital Chairman Don Marron are among the collectors who will head to the Swiss city of Basel to check out the world's largest modern and contemporary art fair.
Art Basel opens to invited guests on June 16 in the quiet Swiss city on the Rhine River. The fair's 46th edition includes 284 galleries from 33 countries showing works by 4,000 artists. Insurer AXA Art estimates there's 3 billion euros ($3.4 billion) of art on view, about the same as last year.
Last month's New York auctions set new records as $2.7 billion of art changed hands -- up 23 percent from a year earlier -- and a Picasso painting fetched $179.4 million.
"Interest rates are so low that people have so much money they don't know what to do with it," said Robert Landau, owner of Landau Fine Art, which is offering a $30 million Pablo Picasso painting. He said one of his clients is a 37-year-old man who retired after earning a fortune and is "sailing around the world and buying paintings to put on the boat."
Warren Buffett's NetJets Inc., a sponsor of the fair for the 12th year, said it has booked about 110 private flights in and out of Basel, a 10 percent increase from a year ago.
Important Shows
Loeb, who owns hedge fund Third Point, and Marron are planning to attend, along with Warren Eisenberg, Bed, Bath & Beyond's co-chairman, according to people briefed on their plans. Tad Smith and Patricia Barbizet, the recently appointed chief executive officers of rivals Sotheby's and Christie's, respectively, are set to attend as well, the companies said.
"It's another gilded age," said New York collector Lenore Schorr. "A lot of people have a lot of money."
Many galleries are bringing works by artists who had strong performance at auctions in May, and those who are featured at important current exhibitions such as the Venice Biennale.
Pablo Picasso's $30 million painting of two lovers -- a 2-meter-wide (6.5 feet) 1965 painting "Les Dormeurs," depicting the artist and his second wife Jacqueline Roque -- will be the star of Landau's booth.
"When people see auction prices they think everything we have is very cheap," said Landau, owner of the Montreal and Meggen, Switzerland-based gallery. "The auctions are helping us. They are raising prices on everything."
Dubuffet Group
Landau is also bringing eight paintings by Jean Dubuffet. Leading the group by price is a $15 million work from the French artist's Paris Circus series.
A larger painting from the group, "Paris Polka" fetched $24.8 million at auction in May, more than three times the artist's previous record of $7.4 million.
Dominique Levy gallery will show Alberto Giacometti's $6 million sculpture of his brother. At Christie's, Giacometti's bronze pointing man fetched $141.3 million, a record for a sculpture at auction.
Good material is getting harder to find as galleries have to compete with the auction houses and stock their booths at dozens of fairs each year.
"I've been through at least 25 packing lists and I have seen very few 'Oh my God' pieces," said Todd Levin, director of Levin Art Group, whose clients have included Leonardo DiCaprio and hedge fund manager Adam Sender. "It seems harder to fill the booths."
Neon Sculpture
One work that has caught his eye was Bruce Nauman's 1972 neon sculpture, "Eat Death," offered by Sperone Westwater gallery from New York. Another piece from the edition of six is currently on view at the Venice Biennale.
The price is in the seven figures, the gallery said, declining to be more specific. The auction record for a neon sculpture by Nauman is $4 million, reached in 2009, according to Artnet.
"I've been asked about this work more than anything else," said Angela Westwater, a co-owner of the gallery. "It's an eye-catching piece with a lot of wall power."
Don't look for a $179 million Picasso at Art Basel -- most works are priced under $5 million, dealers said.
"People who are buying at auction are unlikely to buy through galleries," said Paul Gray, director of Richard Gray Gallery in Chicago and New York. Asian collectors, who have been big buyers at recent auctions, are particularly finicky, he said.
"They are extremely brand conscious," Gray said. "It's not just the artists. It's also the Sotheby's and Christie's provenance."
Last year, one of the top prices at Art Basel was an Andy Warhol painting with the asking price of $32 million at Skarstedt gallery's booth. It sold on the fair's first day. This year, the New York- and London-based gallery doesn't have an artwork of that value. It will show a large torso sculpture by Willem de Kooning, priced at $6.5 million.
"It's a hard one to repeat," said the owner Per Skarstedt.
Before it's here, it's on the Bloomberg Terminal.
LEARN MORE