FIFA's Blazer Cooperated in U.S. Soccer Bribery Probe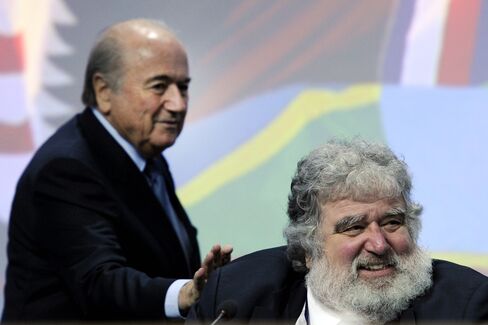 When U.S. soccer evangelist Charles "Chuck" Blazer admitted he took bribes tied to the World Cup, he did so knowing he had a deal with the U.S. government to help bring charges that would shake the highest ranks of the sport.
Once one of the most powerful figures in soccer, Blazer traveled the world and kept luxury apartments in Miami, the Bahamas and New York's Trump Tower. In 2013, he appeared in a locked Brooklyn, New York courtroom where he admitted to a central role in a wide-ranging corruption scheme at FIFA.
The U.S. government Monday largely unsealed Blazer's plea deal, revealing for the first time his agreement to cooperate in its investigation of soccer's global governing body. Blazer pleaded guilty to 10 charges including arranging and accepting bribes and not paying taxes on $11 million in income.
Last month, 14 other soccer officials and sports marketing executives were indicted by a U.S. grand jury in Brooklyn. They were accused by the U.S. Justice Department of taking part in bribe schemes totaling more than $150 million.
As part of the deal, Blazer agreed to provide information secretly, and engage in debriefing sessions without his lawyers present, according to the court filing. Before entering his guilty plea, he had 19 sessions with the government starting in December 2011, according to the filing. He also agreed to testify at hearings or at trial if necessary.
News Organizations
Following requests from news organizations including Bloomberg and the New York Times, U.S. District Judge Raymond Dearie found that the U.S. had "not met its high burden of establishing that continued sealing is necessary" and ordered that the agreement be disclosed.
Making the agreement public "will be of little consequence to the government's effort to build a case," Dearie said in a ruling issued June 11 and made public Monday.
Blazer's guilty plea followed a two-decade career as a leading international soccer official. He had served in the No. 2 post at Concacaf, the soccer confederation that oversees North and Central America, and as a member of FIFA's executive committee, which decides on dates and locations of tournaments, including the World Cup.
In wake of the bombshell indictment last month, FIFA President Joseph "Sepp" Blatter announced he will resign from his post. The soccer body suspended the bidding process for the 2026 World Cup. Swiss law enforcement opened a probe into the award of the 2018 and 2022 World Cups to Russia and Qatar respectively.
$2 Million
Blazer agreed to forfeit at least $2 million in illegal proceeds, according to the agreement.
Blazer told Dearie at the 2013 plea hearing that he used his position to enrich himself, arranging and agreeing to accept bribes to influence voting for countries hoping to host the 1998 and 2010 World Cups, according to the transcript. He said he also accepted bribes from a sports-marketing firm that paid Concacaf for marketing and media rights to regional tournaments.
Defendants who choose to plead guilty and cooperate with the government often hope to lessen their sentences. Those who provide considerable assistance are eligible for special leniency requests from the government.
Blazer, who is 70 and has cancer, may be eligible for such a request, according to the newly released agreement. He faces possible maximum sentence of 20 years in prison on the most serious charges.
Earlier, also in a response to a request by news organizations including Bloomberg, Dearie ordered the government to publicly file a transcript of the hearing when Blazer pleaded guilty in court. The U.S. was permitted to file a version with portions blacked out.
Although the government had earlier refused to provide details about Blazer's plea deal, the New York Daily News reported in a November story titled "Soccer Rat!" that he was cooperating with prosecutors.
The case is U.S. v. Blazer, 1:13-cr-00602, U.S. District Court, Eastern District of New York (Brooklyn).
For more, read this QuickTake: The World Cup
Before it's here, it's on the Bloomberg Terminal.
LEARN MORE