Zookeepers Die, Wildlife Roams Streets of Flood-Hit Tbilisi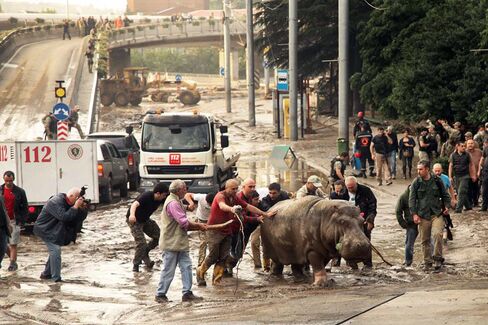 Three zookeepers were killed and tigers and wolves roamed streets in central Tbilisi as flash floods swept the Georgian capital, prompting authorities to declare an emergency.
"Our favorite lion, Shumba, was just killed by the emergency forces," Mzia Sharashidze, a spokeswoman for the city zoo, said by phone. "We don't know how many animals are missing. The zoo is still flooded."
The zookeepers were among at least 12 people who died in floodwaters that burst open the zoo's gates and enabled lions, tigers, bears and wolves to escape, according to Mayor Davit Narmania. A dazed hippopotamus was seen in a city square and later tranquilized by police, who also shot a lion and a tiger. Helicopters are flying over the city to find missing animals.
"These floods are something we have never seen before," Georgian Prime Minister Irakli Garibashvili said on Rustavi 2 TV. "It's a terrible situation in the capital. We are mobilizing the municipality and the police."
The Ministry of the Interior has declared an emergency in the city and asked people to remain indoors to avoid encountering the wild animals. Some missing people have been found and the injured are being treated, while selected residential areas are being evacuated, it said in an e-mailed statement.
Groups of volunteers, organized via Facebook, have come equipped with shovels to help the authorities to clean up the zoo area and to remove dead animals and debris.
The flood also wiped out a dog home run by businessman Tamaz Elizbarashvili. The shelter, which already was hit by floods earlier this month, had provided refuge to at least 500 dogs, including abandoned circus bears, volunteer Nana Khomasuridze said by phone. Only 100 dogs survived, she said.
Before it's here, it's on the Bloomberg Terminal.
LEARN MORE