Hugh Hendry's Dollar Bet Spurs Revival at Hedge Fund Eclectica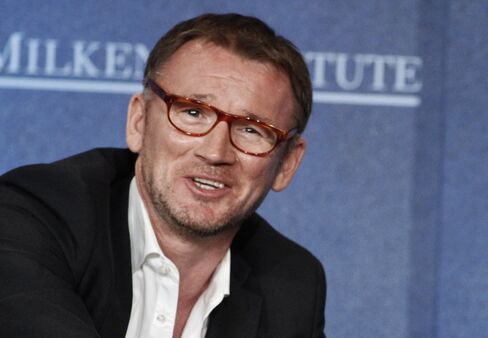 Hugh Hendry, the Scottish hedge-fund manager who made a fortune for his clients during the depths of the financial crisis, has re-established his Eclectica Asset Management as one of the world's top performing hedge funds after making a winning bet on the dollar.
Hendry's Eclectica Fund, which posted losses in 2012 and 2013, last year made a wager on the currency rising that helped the fund gain 28 percent over the past 12 months, outperforming 95 percent of similar funds, according to data compiled by Bloomberg. The Eclectica Fund manages $86 million of the firm's $300 million in assets by betting on broad global macro-economic trends.
Hendry bought dollar assets following a meeting of central bank chiefs at Jackson Hole, Wyoming last August during which European Central Bank President Mario Draghi appeared to signal that the ECB would embark on a broad-based asset-purchase program.
"People like me made the assumption they had effectively sanctioned the dollar to rise," said Hendry, 46, in an interview in Kensington, London. The currency has gained 15 percent against the euro since the meeting.
Hendry's fund had shrunk to less than $500 million last year from more than $1 billion. Key staff left following a loss of 1.7 percent in 2012 and a loss of less than 0.1 percent in 2013.
"For two-and-a-half years we beat our brains out and I never worked longer hours. We made no money," said Hendry, who founded Eclectica in 2005 and is chief investment officer.
'Real World'
Eclectica and Hendry had drawn the attention of investors when they made a 31 percent return for clients in 2008, a year when the Standard & Poor's 500 Index slumped 39 percent.
The public profile of the bespectacled Glaswegian rose further after the financial crisis when he made several outspoken TV appearances. In one heated debate on BBC show Newsnight in April 2010, he offered to tell U.S. economist Joseph Stiglitz about the "real world."
"Being rude to Nobel Prize-winning professors was fantastic, in this world of social media, for spreading the franchise's reach," Hendry said.
Minor Miracle
On another episode of Newsnight in April the same year, presenter Jeremy Paxman asked Hendry about the possibility of a Greek sovereign debt default. "I would recommend you panic," was his response.
Pointing out that macro hedge-fund managers "have to pretend to be central bankers," Hendry said he's testing a relative value trade in Italy of being long equities and short 10-year government bonds. Economic circumstances for the country are improving and the policies of central bankers show that they want stocks to rise at a faster pace than bonds, he said.
Italian Prime Minister Matteo Renzi "seems to have achieved a minor miracle in pushing Italian politics away from the disorder of short duration coalition administrations," Hendry said in a note to investors last month.
In a reversal of his negative view on China, Hendry is also focusing on a Chinese equity-futures trade, betting stocks will rise. Now he sees marginal returns increasing because of low rates, high employment and rising wages.
Macro Funds
Macro funds such as Eclectica are becoming more popular with investors because they provide a useful way of diversifying away from equities and bonds, which have been in long-term bull markets, according to Martin Visairas, who heads Citigroup Inc.'s capital introductions unit, which pairs hedge funds with investors.
The Eclectica Fund has returned 11.3 percent for clients this year, data compiled by Bloomberg showed. The average macro fund gained 2 percent through May 31 after making 5.6 percent in 2014, according to Chicago-based data provider Hedge Fund Research.
Hendry is the son of a truck driver and was born on the south side of Glasgow, close to the notorious Gorbals public housing district. He planned to escape his poor upbringing by becoming an accountant and studied the subject at the city's University of Strathclyde.
Upon graduation, Hendry spent eight years working as an analyst for Baillie Gifford & Co., an Edinburgh-based pension fund manager. He moved to London in 1998 after getting a job as an equities analyst with Credit Suisse Group AG. He previously worked at Odey Asset Management and left to start Eclectica with colleague Simon Batten, who is no longer with the firm.
Before it's here, it's on the Bloomberg Terminal.
LEARN MORE