Greek Banks Can't Pull Out Capital From Macedonia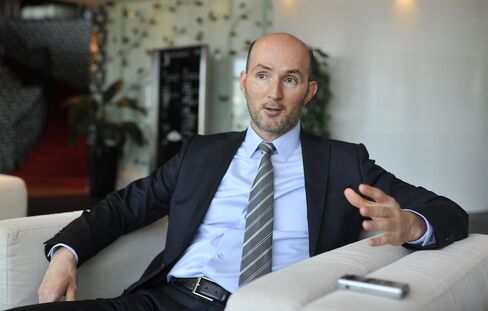 Greek bank owners with assets in the Republic of Macedonia can't pull out their capital unless they offer their holdings for sale, the former Yugoslav state's central bank head said.
"Greek banks have no legal possibility to withdraw their founding capital, according banking legislation," Macedonian central bank Governor Dimitar Bogov said in an interview in Becici, Montenegro. "They can only sell their stake to another investor."
Greek banks, which are under pressure in their own country as the risk of the country's default and exit from the euro area grows, will have to weather a shaky political situation in neighboring Macedonia, which has called early elections in the worst political crisis in more than a decade.
Greek-owned banks account for about 22 percent of about 6 billion euros ($6.74 billion) in total banking assets in Macedonia, according to the central bank.
Macedonian Prime Minister Nikola Gruevski's cabinet came under attack from opposition leader Zoran Zaev, who leaked what he says are wiretaps that show abuse of power by government officials, including the premier. The government denies wrongdoing.
Along with the political standoff, 22 people died in a battle between police and Albanian insurgents in the northeastern town of Kumanovo in May.
Yield Falls
The yield on Macedonia's euro bonds maturing in 2021 fell one basis point to 4.39 percent by 4:55 p.m. in Skopje, according to data compiled by Bloomberg. The denar traded 0.1 percent firmer at 61.57 against the euro.
Greece's ASE Index lost 5.9 percent, for the biggest decline among western European markets, with National Bank of Greece SA and Eurobank Ergasias SA falling more than 10 percent.
Besides Greece, Macedonia borders EU member Bulgaria, as well as Serbia, Albania, and Kosovo. The country of 2 million people emerged as a state from the 1990s violent breakup of communist Yugoslavia and has been a candidate for European Union membership for a decade. Among the hurdles to joining the bloc is a long-standing dispute over the name Macedonia, which Greece says belongs only to its northern province.
Greek Risk
Macedonia's central bank has prepared "contingency measures" if Greece drops the euro, Bogov said, declining to elaborate.
"I don't expect a run on banks if a Grexit happens," Bogov said, referring to Greece's possible exit from euro zone. "We had a similar situation in 2012 when that possibility was first mentioned, but then we explained to depositors that their money is safe. Perhaps this time there could be panic initially, but it will calm down."
EU officials are preparing for the worst outcome in talks between Greece and its creditors. Chancellor Angela Merkel urged Greek Prime Minister Alexis Tsipras to accept the framework for financial aid and euro-area officials demanded a proposal for stabilizing the country's debt by the end of Friday. The International Monetary Fund team left Brussels earlier this week, despairing of Tsipras's tactics.
A joint response by countries including Macedonia, Serbia, Bulgaria and Romania to a Greek euro exit isn't possible, Bogov said, adding that EU members can rely on the European Central Bank's assistance if necessary.
More Worried
This "tells me I have to be a bit more worried about the possible escalation of Greece's drama if a Macedonian central bank chief tries to prevent a panic and a bank run," Dmitri Barinov, who manages $2.6 billion of assets including Macedonian notes at Union Investment Privatfonds GmbH in Frankfurt, said by e-mail. "It's more critical for the countries with a stronger presence of Greek banks: Bulgaria, Romania, and Serbia."
EU-sponsored talks between the four leaders of main political parties in Macedonia, including Gruevski and Zaev, have broken down with no accord on how to overcome the political crisis. Last week, the leaders agreed to hold early elections next April.
"For the time being, I am more concerned about the political situation in Macedonia than about the Greek crisis," Bogov said. "If it comes to a Grexit, we will talk to the public to explain that their money in Greek banks in Macedonia is safe."
(Corrects fourth paragraph of June 12 article to show that Greek holdings account for 22 percent of 6 billion euros of total banking assets.)
Before it's here, it's on the Bloomberg Terminal.
LEARN MORE