Greece Counts Cost of One Man's Gamble
Tsipras's brinksmanship in eight charts
Alexis Tsipras's brinksmanship is driving up the costs for Greece as he battles against demands by creditors.
While the government has shown resourcefulness to last as long as it has without defaulting, Tsipras's actions have taken a visible toll on Greece's economy, banking system and markets. An immediate gauge of the cost comes in plunging market capitalization of the Athens Stock Exchange.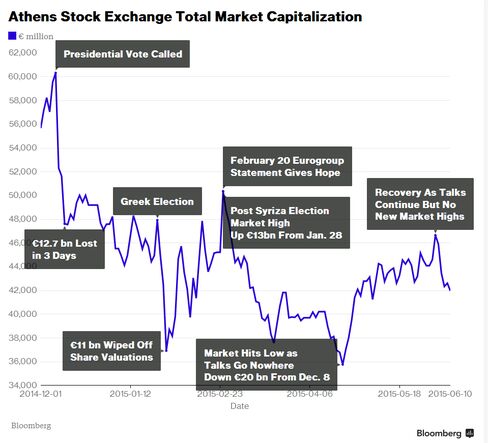 The government has belt-tightened by prioritizing debt service and payment of wages and pensions over all other expenses.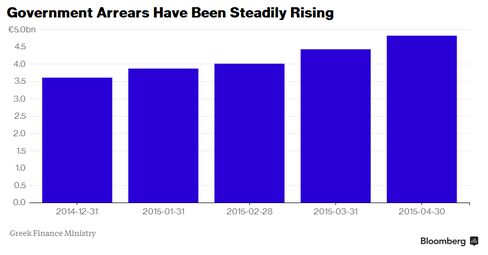 Squeezing its suppliers has come at the price of choking off the flow of funds to the real economy. Greece was officially back in recession by the end of March, and perhaps even more worrying was the plunge in investment.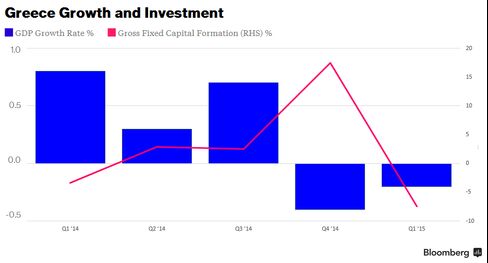 Meanwhile, unemployment is once more on the rise.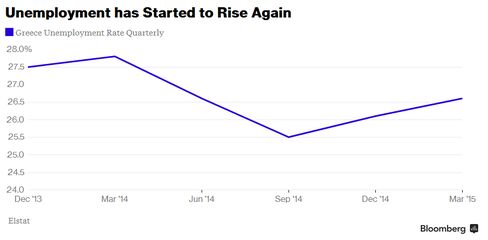 Early on the government had to contend with the breakdown of one mechanism its predecessors relied in periods of protracted negotiations after the ECB warned Greek banks not to increase their sovereign exposure. The government had to hustle to mobilize cash reserves of general government agencies like social security funds to cover its regular Treasury bill auctions.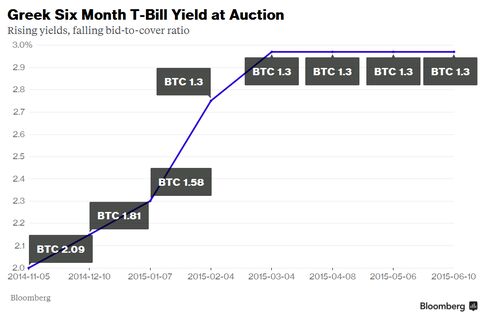 As deposits have fled the country, it's also affected the value of state assets.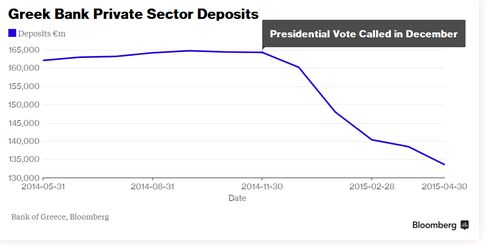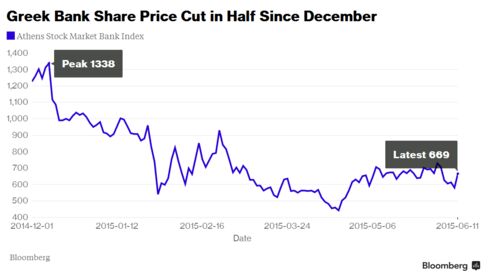 Through the Hellenic Financial Stability Fund, the Greek government has large holdings of four of the five banks in the Athens Stock Market Bank Index. It owns 57 percent of National Bank of Greece, 66 percent of Alpha Bank, 35 percent of Eurobank and 66 percent of Piraeus Bank.
Taking those holdings, we can calculate how much of the value of those holdings has changed since Dec. 7 – the day before the presidential vote was called which eventually led to the collapse of former Prime Minister Antonis Samaras's government and the election of the Tsipras's anti-austerity Syriza party.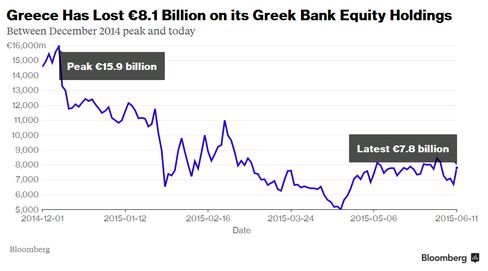 Before Samaras called the presidential vote, Greece was in negotiations with creditors over a precautionary credit line of about 10 billion euros ($11 billion). The size of a third bailout had quadrupled to 40 billion euros by April, according to the average estimate of economists in a Bloomberg survey.
"Any deal right now is going to be hard for Greece," Nicholas Economides, an economics professor at New York University's Stern School of Business told Tom Keene and Michael McKee on Bloomberg Radio. "Greece is a small country with a lot of imported stuff, a lot of tourism, a lot of exchanges of money. It's very hard to work under these conditions. The economy has stalled."
Read this next:
Before it's here, it's on the Bloomberg Terminal.
LEARN MORE