Goldman: Washington Is Coming for All Those Share Buybacks
Political scrutiny rising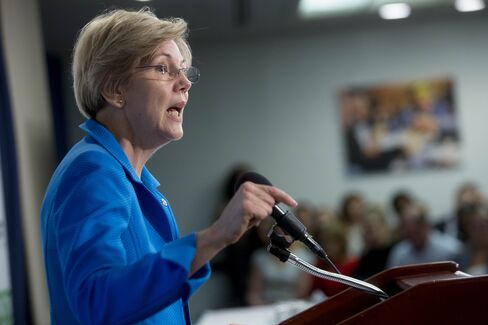 It's no secret that U.S. companies have been repurchasing their stocks at a stunning pace.
In a new research note, Goldman Sachs, which clearly does not like stock buybacks, argues that the practice of returning billions of dollars to shareholders is facing increasing political scrutiny.
To some extent, the political backlash noted by Goldman's Chief Economist Jan Hatzius and his team is already happening.
Senator Elizabeth Warren (D-Mass.), who is no stranger to criticizing Wall Street, recently described buybacks as "stock manipulation" and, in a 13-page letter, called on the U.S. Securities and Exchange Commission to consider changing its rules governing the practice. Meanwhile, Senator Tammy Baldwin (D-Wis.) sent a request for information to the SEC asking for an analysis of share buybacks' impact on the U.S. economy (in the form of capital formation), among other things. Buybacks may also end up playing a role in the corporate tax debate. While buybacks aren't themselves tax-deductible, Goldman notes that related practices such as funding stock buybacks through debt issuance or paying employees with stock options, do come with some pretty sizable tax benefits.
Meanwhile, Goldman notes that buybacks among S&P 500 companies totaled more than $500 billion in 2014 and are expected to jump to about $600 billion this year.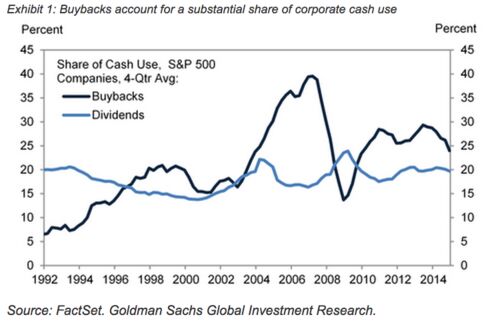 With share repurchases expected to increase and the 2016 White House race heating up, buybacks could end up becoming a hefty political target.
So what changes could be instituted by Washington? Here's Goldman's thinking:
Some lawmakers have linked share repurchases with stagnant wages and a lack of business investment and have recently begun to call for regulatory changes to constrain repurchase activity. The two most obvious avenues for policy change would be securities rules related to the transactions themselves, or tax changes that increase the relative cost to corporations of buying back their own stock instead of paying dividends or making investments in productive capital.
Goldman thinks that these efforts won't get far in the near term, but they are relevant enough that it is worth taking a look at potential side effects.
Since Hatzius and his team are focused on the U.S. economy, they examine the impact of reduced share buybacks on capital investment. They find that the relationship between capital investment and buybacks is pretty loose; a percentage-point increase in capital returns to shareholders is associated with a 0.04 percentage-point decrease in capital investment growth.
That suggests the 13 percent increase in share buybacks forecast by Goldman would result in a 0.5 percentage-point decrease in capital investment growth.
Here's what Goldman concludes:
In the seemingly unlikely event that restrictions on buybacks were put in place, it is unclear what effect they would have on business investment. Technical changes to share repurchase programs might not have much of an effect, as long as companies are still free to repurchase shares in some manner. Moreover, since firms can currently borrow at low rates, there may be less of a tradeoff between making profitable capital investments and returning capital to shareholders than usual.
No word, of course, on what diminished share buybacks would mean for the stock market or for that matter the bond market, through which many of these repurchases have been funded.
Before it's here, it's on the Bloomberg Terminal.
LEARN MORE