Ford-Jaguar Consortium to Test Driverless Transport Pods in U.K.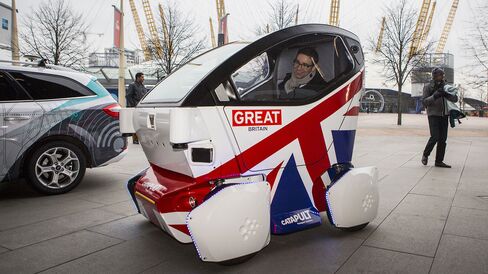 Ford Motor Co. and Jaguar Land Rover Ltd. are teaming up with the U.K. government to test autonomous cars as an add-on to public transport systems.
The U.K. Autodrive Consortium will place 40 self-driving transport "pods" on the streets of Milton Keynes, about 60 miles (100 kilometers) north of London, for six months beginning in late 2017, project head Tim Armitage said in an interview. The British government's goal is to secure a slice of the growing market for autonomous transport.
The project, which is partially funded by a government grant, is part of a five-year, 120 million-pound ($186 million) effort by the U.K. to become a leader in self-driving vehicles, challenging Germany and the U.S. The goal is to spur investment as well as reduce accidents and improve air quality.
"There's some big wins" with autonomous vehicles, Armitage said. "But in order to reach those big wins, we need some new technology."
The trial, a three-year investment backed by a 10 million-pound government grant and the same amount from the private sector, is running alongside two other U.K. programs in Bristol, England, and the London borough of Greenwich. U.K. road laws are more open to testing driverless cars on public roads than many other countries, making the country attractive to foreign companies, Armitage said.
The autonomous pods to be deployed in Milton Keynes will be developed by government-backed Transport Systems Catapult. The small vehicles will use lasers, radar and cameras to scan streets for people and objects. Three vehicles have so far been assembled, with one currently being tested in the town.
"We have a history of innovation and progression and those ingredients still exist in the U.K.," said Steve Yianni, managing director of Transport Systems Catapult. "There is a global race going on to develop this technology and bring it to market."
Read this next:
Before it's here, it's on the Bloomberg Terminal.
LEARN MORE