Bombs Didn't Stop This Ukrainian Steelmaker. Creditors Might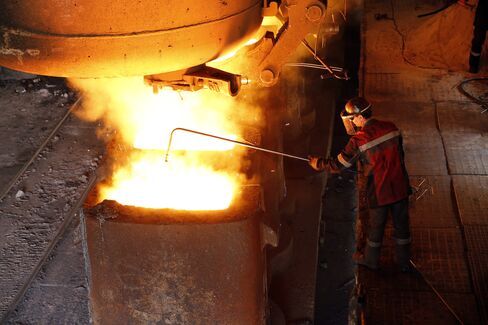 Steelmaker Metinvest BV has withstood a year of shelling and mortar attacks that have hit almost all its facilities in eastern Ukraine. It's now under siege by creditors from London and New York.
Bondholders who own about 1 percent of the company's $3.1 billion in debt are demanding Metinvest pay more than $100 million that came due last month. The company, though, is running out of money as it struggles to keep foundries and mines open in the war-torn region of Ukraine called Donbas.
If the two sides can't reach an agreement, controlling shareholder Rinat Akhmetov -- Ukraine's wealthiest man -- may get caught up in a lengthy legal battle that could do as much damage to the business as mortar shells. In the worst case, he risks losing control of Metinvest, Ukraine's biggest company.
"The situation is very dangerous for Metinvest," said Alexander Paraschiy, an analyst at Concorde Capital in Kiev. "War is escalating in the east and holdout bondholders want money that the company can't give."
Though Metinvest operates mills and mines from Kentucky to Newcastle, England, its heartland is in eastern Ukraine, where the Ukrainian army is facing an insurgency by pro-Russian separatists. Just one of its five steel facilities in the region has avoided damage from the conflict, according to Aleksey Kutepov, chief financial officer of Metinvest.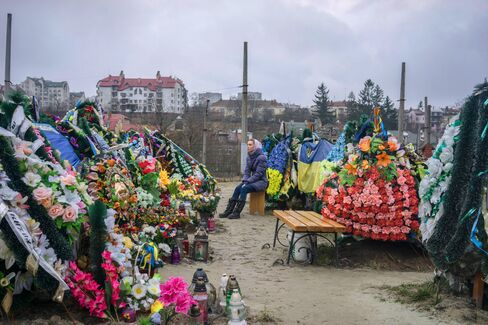 Proposal Blocked
Funds such as Marathon Asset Management and Noster Capital abstained from a June 1 vote on a company plan to restructure $114 million in bonds due for repayment in May, thereby scuttling the proposal. Another vote has been scheduled for June 26, and the bondholder group is attempting to reach the 25 percent threshold needed to block the company's plan, according to two people familiar with the matter, who asked not to be identified speaking about private deliberations.
Officials at Noster Capital in London and Marathon in New York declined to comment on the restructuring talks.
"Metinvest may not have enough cash on its balance sheet, but bondholders know that the main shareholder does," said Andre Andrijanovs, a trader at Exotix in London. "They want to squeeze out some more money."
The funds want to be repaid at face value before Metinvest negotiates the restructuring of $3 billion in bank debt and bonds maturing in the next four years, including money owed to lenders such as Deutsche Bank AG and ING Groep NV. Metinvest is proposing to pay 2015 bondholders 25 percent of face value now and the balance next year -- but it's unlikely they'll get full value if the company agrees to a restructuring deal with the banks.
"Given Metinvest's current cash flow projections, there is no more repayment headroom that we can offer," CFO Kutepov said in an e-mail. "We'll seek to preclude a bankruptcy scenario that would make everyone lose."
The $114 million of 10.25 percent bonds dropped to 66.9 cents on the dollar on Thursday, approaching the record low of 65 cents quoted Feb. 3, according to data compiled by Bloomberg.
Three Metinvest sites lie in rebel-held territory east of Donetsk, and the company has two steel mills in Mariupol, a port on the Black Sea being threatened by separatists. A coking coal plant in Avdiivka, just outside Donetsk, has been hit by almost 300 shells in the past year, killing one employee and wounding two, Kutepov said.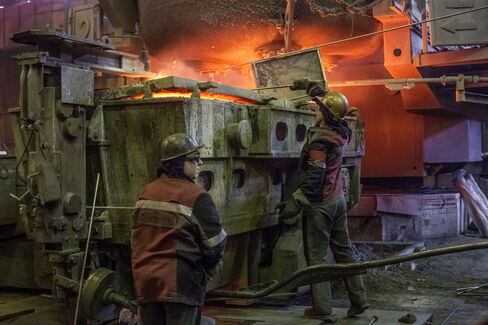 Bomb Shelters
The company has constructed bomb shelters at its facilities, where workers hide out during attacks. At Avdiivka, employees removed benzene tanks for fear they would explode if hit by shells. One steel mill was shut for almost three months last year after an attack, and production at a steel pipe producer has been disrupted since August because of damage to rail lines it uses to get raw materials and ship finished products.
"We are doing our best to overcome the consequences of the attacks, provocations, and assaults that have damaged our production facilities and transportation routes," Kutepov said.
Metinvest, established in 2006, is the most valuable asset of System Capital Management JSC, Akhmetov's investment group. As the steelmaker and miner doubled in size to revenue of $12.8 billion in 2013, Akhmetov accumulated vast wealth and is now the world's 205th richest man, according to Bloomberg Billionaires.
In 2011, he paid 137 million pounds ($213 million) for a penthouse at London's One Hyde Park, at the time the U.K.'s most expensive flat. And he hired foreign players such as Brazilians Willian and Fernandinho for his Shakhtar Donetsk soccer club, which in 2009 won the UEFA Cup, a first for a Ukrainian team.
The war brought his ascent to an abrupt end. Akhmetov's fortune has dropped by more than two-thirds since 2013, to $7 billion from $22 billion. Shakhtar's stadium, renovated for the 2012 European championship, lies abandoned after being hit by mortar shells last year, and the team now plays in the western city of Lviv.
As the fighting has raged, Metinvest has struggled to repay debt. Its first quarter earnings dropped 61 percent as sales fell 38 percent to $1.8 billion from a year earlier. At the end of March, Metinvest had $189 million in cash on its balance sheet.
While that would be enough to pay off the bonds that matured last month, it can't cover the $600 million-plus in bank debt the company must repay by January. And with international investors withdrawing en masse from Ukraine, there's little chance of refinancing. If the company can't restructure the debt, investors would have the right to demand that they be paid off in cash at maturity.
Metinvest "underestimated the duration and gravity of the conflict," said Oleksiy Andriychenko, an analyst at ArtCapital in Kiev. "Last year they thought that they only needed to extend some of their debt, and they would be able to refinance the rest in spring. But the war continued."
Read this next:
Before it's here, it's on the Bloomberg Terminal.
LEARN MORE