As Not Seen on TV: Wal-Mart Dials Back Ads in Low-Price Push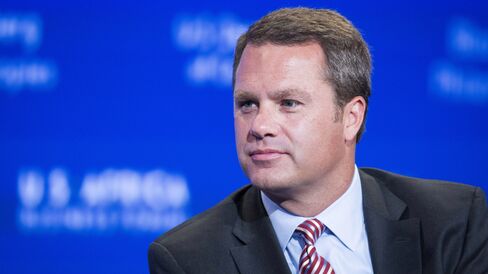 Wal-Mart Stores Inc. is scaling back TV advertising, newspaper circulars and in-store displays in an effort to refocus on everyday low prices, even as major suppliers complain the move is harming sales.
The retail giant asked vendors earlier this year to stop mentioning its name in their ads, urging them to direct resources toward cutting prices instead. The idea is if suppliers spend less money promoting their products, they can pass the savings on to Wal-Mart -- and its shoppers.
That means the "available at Wal-Mart" message is disappearing from commercials for blenders, cleaners and other products promoted on late-night TV. In Sunday newspapers, meanwhile, the frequency of Wal-Mart circulars that advertise specials is down by about half from a year ago.
"We are getting back to a place where we are playing offense with price to best serve our customers," said Deisha Barnett, a spokeswoman for Bentonville, Arkansas-based Wal-Mart. "We believe that our suppliers' best investment for our customers is an investment in price, not an investment in co-op advertising or a temporary discount."
The retailer, famous for appealing to thrifty shoppers, also is doing fewer promotional displays for specific items within the aisles of its stores. Some packaged-food suppliers such as Mondelez International Inc. say that's hurting sales, and the marketing decrease is raising broader concerns that Wal-Mart may send customers to rivals.
Stronger Competition
"Their competitors have gotten stronger," said Brian Yarbrough, an analyst at Edward Jones in St. Louis. "Now everyone is so close in price that it comes down to the shopping environment and convenience."
Wal-Mart is touting the changes as a return to founder Sam Walton's emphasis on everyday low prices, or EDLP, a philosophy that discourages customers from looking for promotions and specials. Chief Executive Officer Doug McMillon and U.S. division head Greg Foran want suppliers to adopt the same philosophy: They should concentrate on cutting costs -- not budgeting money toward ads or limited-time promotions.
The retailer had strayed too far from its low-price strategy in recent years, making the changes necessary, Barnett said. The push is part of an effort to reinvigorate sales at the world's largest retailer, which has lost ground to smaller chains and e-commerce rivals. Earnings and revenue both missed analysts' estimates last quarter, weighing on Wal-Mart's stock this year. The shares have declined 15 percent in 2015.
Lost Sales
For suppliers, though, the marketing shift has caused suffering.
Mondelez CEO Irene Rosenfeld said on a conference call in April that North American revenue decreased because of Wal-Mart's strategy, which "reduced merchandising and display opportunities." The snack company, which makes Oreos and Wheat Thins, saw a decline in sales of biscuits after the change, she said.
Kellogg Co. CEO John Bryant also cited the re-emphasis on EDLP after the company's latest earnings report, saying it had an adverse impact on business.
When asked to respond to the suppliers' remarks, Barnett said, "Change isn't easy."
Wal-Mart alerted its vendors to one aspect of the new policy in April, when it distributed a new guide for print, radio, television and digital ads. Except in special circumstances -- such as an ad for a new product that is exclusive to Wal-Mart -- the company prohibited suppliers from naming it in commercials. On the occasions when Wal-Mart is identified, the ad must "strengthen Wal-Mart's EDLP message."
Mentioning Rivals
The result is that ads may point shoppers to competitors like Bed Bath & Beyond and Target, not Wal-Mart, even though the products are still available there.
Getting mentioned in an ad doesn't necessarily come with a direct expense, but the marketing budget can be reflected in the cost of an item. Advertising ultimately drives up the price of a supplier's product, Barnett said.
McMillon, who began revamping Wal-Mart after taking the CEO job last year, addressed the strategy during a talk at Stanford University's business school in February.
"We like to practice EDLP, which has a lot attached to it -- including how you negotiate with suppliers," he said. "We would not like to be paid to run advertisements. We would like to have a lower cost everyday and pass that along to our customers everyday."
Costco Model
Forgoing advertising in favor of low prices can be a successful approach, said Burt Flickinger, managing director at Strategic Resource Group in New York. He cited Costco Wholesale Corp. and WinCo Foods, a Boise, Idaho-based retailer.
"There's a cost associated with tagging Wal-Mart on TV, and they want everything going into price instead," he said.
But having vendors remove Wal-Mart's name from ads could be risky, Yarbrough said. If Target is listed and Wal-Mart is not, customers may just go to Target, he said.
It's also likely that large supermarket chains and other competitors will keep up a steady stream of promotions, said Bryan Gildenberg, an analyst at Kantar Retail in Boston. That may make it harder for Wal-Mart to stand out. And the EDLP approach isn't as novel as it once was, he said.
Then there's the example of J.C. Penney Co.
Under CEO Ron Johnson, a former Apple Inc. executive, the department-store chain reined in its promotions in favor of everyday low prices. The plan backfired, contributing to a customer exodus, billions in losses and the ouster of Johnson in 2013.
Wal-Mart, which its sprawling supercenters and growing e-commerce site, is a much different operation than J.C. Penney. But the new approach will test how much prodding shoppers need to keep coming in.
"The management team is thinking that having the lowest price alone is going to drive people back into the store," Yarbrough said. "I am not convinced that works."
Before it's here, it's on the Bloomberg Terminal.
LEARN MORE