Alberta Should Boost Carbon Price Slowly, Suncor's Williams Says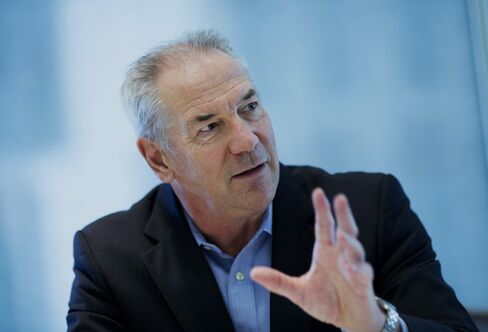 Suncor Energy Inc. Chief Executive Officer Steve Williams says he supports a higher carbon tax for Alberta as long as the rate is increased gradually to ensure Canada's oil remains competitive with other jurisdictions.
The current price of C$15 ($12) a metric ton that's applied to large industrial emitters "wasn't a bad place to start and I think it can move on" with increases over time, Williams said in an interview at Bloomberg's Calgary bureau on Wednesday.
"I'm disappointed with the world's progress" on carbon prices, Williams said. The CEO has lived through seven premiers in Canada's third-largest provincial economy who have changed their plans for regulating carbon. "The problem for big capital is that it needs certainty," he said.
Alberta was one of the first places in the developed world to implement a carbon tax in 2007, with a policy that contributes proceeds from the levy to a technology fund. The province got no recognition for it, Williams said. Premier Rachel Notley's government, elected in May, has said it will roll out new regulations, including a possible change to the price of carbon, by the end of the month.
A price for carbon that increases over time will provide oil companies with the long-term certainty they need, especially with oil-sands projects that run for decades, he said.
Advances in technology will make oil and gas cheaper to produce and less damaging to the environment, Williams said. While a shift to gas from coal will reduce emissions in power generation, methods such as using microwaves to extract bitumen will reduce the environmental impact of the oil sands. Such steps will allow fossil fuels to remain competitive with renewable energy and reduce climate-change risks, he said.
'No Substitute'
"There is no substitute as we know today for hydrocarbons," he said. "The biggest value-add for the human race has come from the supply of energy. The question is how do we get the benefits and the costs of these things in balance."
Oil producers around the world have come under greater scrutiny as carbon emissions from coal plants, cars and planes continue to rise in the absence of a global climate agreement that includes the biggest emitters. Williams, 59, has joined a chorus of executives including Europe's largest crude producers calling for a price on carbon in more countries to help provide certainty for business while tackling climate change, he said.
Robust Demand
Still, the expected increase in the world's population to 9 billion people in the next few decades means demand for oil and gas will remain "robust," said Williams, who has been CEO of Canada's largest energy company by market value since 2012.
People in developing countries pursuing rising consumption and standards of living aren't "going solar any time soon," said Jennifer Stevenson, a portfolio manager at 1832 Asset Management LP's Dynamic Funds in Calgary.
"To reduce emissions, the focus should be on coal globally," she said.
Coal consumption is growing outside North America, especially in China and in other developing economies, as its price and abundance make it an attractive source of energy. The Alberta government has promised to phase out the fuel to help reduce emissions.
Before it's here, it's on the Bloomberg Terminal.
LEARN MORE