RBNZ Sees Scope for Another Rate Cut Despite Auckland Boom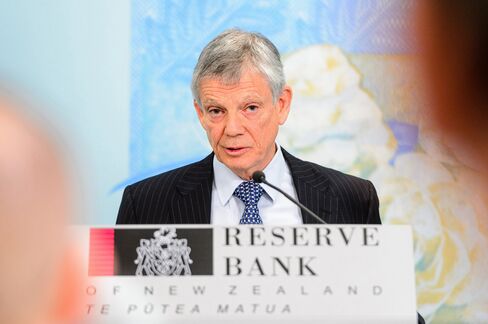 New Zealand's central bank lowered interest rates for the first time in four years to boost inflation as growth slows, setting aside the danger of fueling an Auckland housing boom. The currency plunged toward a five-year low.
"We expect further easing may be appropriate," Governor Graeme Wheeler said Thursday in Wellington after cutting the official cash rate a quarter percentage point to 3.25 percent. The bank's forecasts assume one more rate cut by mid-2016.
Wheeler is responding to slowing growth as dairy prices fall and inflation holds below his target even as Auckland house prices surge. The central bank is betting that cuts in borrowing costs will drive the currency lower and stoke inflation from near zero to its 2 percent goal next year.
"The economy is slowing more rapidly than is openly acknowledged," said ANZ Bank chief New Zealand economist Cameron Bagrie, who predicted today's move. He sees another rate reduction in July and said there's "a 50 percent probability we'll see a third cut before year-end."
Only six of 16 economists surveyed by Bloomberg forecast today's decision, with 10 tipping no change. Traders were pricing a 53 percent chance of a rate cut today, according to swaps data compiled by Bloomberg late yesterday.
The New Zealand dollar fell more than 1 1/2 U.S. cents after the decision to as low as 70.11 cents, the weakest since September 2010. The currency remains overvalued and "a further significant downward adjustment is justified," Wheeler said.
Bank of Korea
Wheeler joins counterparts from China to the euro area who have eased monetary policy this year. Many of the shifts, including those in Canada, India and Australia, weren't predicted by investors.
The Bank of Korea cut rates to a historic low today, a move forecast by 11 of 18 analysts in a Bloomberg survey.
New Zealand's benchmark is still 75 basis points above the record-low 2.5 percent the RBNZ took it to during the global recession in 2009 and again in 2011 after devastating earthquakes in Christchurch.
Wheeler raised rates four times last year before pausing as inflation failed to quicken as he expected. The increases were not a mistake and no one could have predicted the big drops in oil and dairy prices later in 2014, he said today.
RBNZ 'Backtrack'
"New Zealand had one of the highest cash rates in the developed world, so it's quite a big deal that we have seen our central bank backtrack," said Mark Lister, head of private wealth research at Craigs Investment Partners Ltd. in Wellington.
The RBNZ forecasts that the 90-day bank bill yield will fall to 3.1 percent by the second quarter of 2016 from 3.6 percent in the current quarter, indicating one more rate reduction, Wheeler said.
"On balance we lean to the next cut occurring in September, but a cut in July is a very real possibility," said ASB Bank chief economist Nick Tuffley.
Lower borrowing costs risk fueling the housing boom in Auckland, New Zealand's largest city, where prices soared 16 percent in the year through May. At NZ$828,502 ($584,673), the average house price in the Auckland area is higher than Greater London's 369,332 pounds ($573,129).
"The big question hanging over today's decision is what it will do to the housing market," said Stephen Toplis, head of research at Bank of New Zealand in Wellington. "It looks like the RBNZ has simply taken the view that whatever happens to housing is not its fault but rather the government's."
Auckland Measures
Wheeler said a lack of housing supply is the main cause of Auckland's surging market.
Measures announced by the RBNZ last month to curb lending to Auckland residential property investors should help damp price gains in the city, he said. From Oct. 1, investors will need to have a deposit of at least 30 percent. The government has also said it will enforce a capital gains tax on any property sold within two years of purchase.
While the RBNZ looks at the implications of asset-price instability, "our primary objective is price stability," Wheeler said.
Consumer-price inflation will pick up to 2.1 percent by the end of 2016 from 0.1 percent currently, the RBNZ said. Three months ago, it wasn't expected to reach 2 percent until the third quarter of 2017.
The central bank forecast that gross domestic product will expand 3.3 percent in the first quarter of 2016 from a year earlier, less than the 3.8 percent predicted in March. Annual growth will slow to 2.9 percent in the first quarter of 2017, it said.
"The fall in export commodity prices that began in mid-2014 is proving more pronounced" than expected and will weigh on economic growth, Wheeler said.
Fonterra Cooperative Group Ltd., the world's biggest dairy exporter, slashed milk payments by 48 percent in the season ended May 31, curbing farmer income and damping spending.
Before it's here, it's on the Bloomberg Terminal.
LEARN MORE