Vietnam Rushes to Avoid Debt Woes Inherent in China Growth Model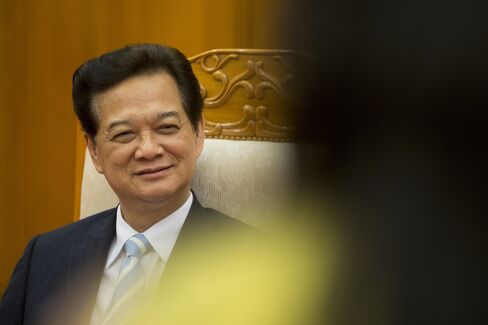 For decades, Vietnam has modeled its growth after China's, with a state-enterprise driven economy and a push toward low-cost manufacturing. Now, the Southeast Asian nation is trying to avoid the debt pitfalls of its larger neighbor.
Vietnam's national debt is rising too quickly, said Nguyen Duc Kien, deputy head of the National Assembly Economic Committee. It may climb to a record 64 percent of gross domestic product by the end of 2015 from 60 percent last year, he said, an estimate that includes government-guaranteed liabilities that ratings companies leave out in their assessments.
"Public debt has risen at the fastest pace ever in a period when the economy had its slowest expansion," Kien said in an interview in Hanoi Tuesday. "We need to be more mindful about how we spend money."
Prime Minister Nguyen Tan Dung, who has increased spending on roads and export zones in recent years to bolster growth, began warning about "great payment pressure" earlier this year. That echoes concerns about China's debt-fueled investment boom that helped spur one of the fastest expansions in the world and is now putting the brakes on the economy as companies and local governments struggle with repayments.
National debt rose about 20 percent every year from 2010 through 2014, Kien said, as officials tried to restructure loss-making state enterprises such as Vietnam Shipbuilding Industry Corp., formerly known as Vinashin, and Vietnam Electricity Group, whose debt is guaranteed by the government.
Deteriorating Outlook
In contrast, Standard & Poor's said in a March report it expects Vietnam's general government debt to rise at an average rate of below 5 percent over the next three years, reducing net debt to 43 percent of GDP from about 46 percent. Fitch Ratings has an assessment of 49 percent at end-2014, while Moody's Investors Service has it at 45.5 percent.
Vietnam's national debt to GDP ratio is still higher than the median of 42 percent among its peers, said Andrew Fennell, Hong Kong-based associate director of Asia Pacific sovereign ratings at Fitch. Indonesia's is about 24 percent and Bangladesh, which shares Vietnam's BB- rating, is at under 29 percent.
"Fitch has historically and continues to view public finances" as one of Vietnam's key credit weaknesses, Fennell said. "Further upside to the rating will be challenged by a deteriorating outlook for the country's public finances."
Seriously Inefficient
The benchmark VN Index dropped 0.6 percent at the noon break Wednesday, poised for its lowest close in a week.
Dung has criticized "seriously inefficient projects with poor management, wasted investment and signs of corruption," and reiterated a goal of curbing public debt at about 60 percent of GDP by 2020. In a report last month to the National Assembly, Finance Minister Dinh Tien Dung said officials will improve public debt management and better monitor use of debt guaranteed by the state and in provincial governments, without outlining specific measures to do so.
"Our annual liability, or how much we pay for the debt every year is more crucial than the overall debt number," Bui Quang Vinh, planning and investment minister, told Bloomberg Tuesday in Hanoi. "Our liability is now getting close to the limit" of about 25 percent of state revenue, he said.
The government's target of 60 percent of GDP is the debt level recommended in the Maastricht treaty for European Union member nations, said Tamara Henderson, a Bloomberg economist.
Steadfast Reforms
"It's not an alarming number," she said. "Much of Vietnam's external debt is on concessional terms" that are probably more favorable than market terms, and likely being used to fund critical infrastructure, including that to comply with agreements related to integration of the Asean nations in Southeast Asia, she said.
Vietnam's household debt is contained at about 20 percent of GDP, compared with more than 80 percent in Malaysia and Thailand, according to HSBC Holdings Plc. A widening fiscal deficit and a weaker currency will pose a bigger burden on interest expense payments in dong terms, Trinh Nguyen, a Hong Kong-based economist at HSBC, said in a report last month.
Vietnam "will require more steadfast reforms to streamline expenditure spending, expand the tax base, and improve debt management," she said.
Before it's here, it's on the Bloomberg Terminal.
LEARN MORE