Fitschen's Deutsche Bank Exit Leaves Trial Loyalty Strained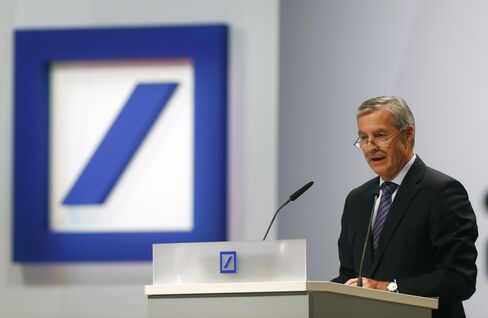 When Juergen Fitschen entered the sober Munich courtroom on Tuesday morning in his fraud trial, everything seemed much as it was on the previous three hearing days.
Appearances can be deceptive. After Sunday's surprise changes at the top of Deutsche Bank AG, nothing is the same at Germany's iconic lender.
The revelation that Fitschen and Anshu Jain will step down as co-chief executive officers will alter the dynamics of the criminal trial, according to Stephan Holzinger, owner of litigation advisory firm Holzinger Associates GmbH. The bank and Fitschen are now fighting for their own diverging interests and the case may move more into the public focus, he said.
"The old loyalties don't count any more; Fitschen is an executive with an expiration date and he probably won't have the full backing of the bank any longer," Holzinger said. "For the bank, it could also be uncomfortable. You can't rule out that Fitschen may have something in his hands that's not to its advantage and he may use it."
Fitschen appeared in court today on the fourth day of the trial alongside former CEOs Josef Ackermann and Rolf Breuer and two other ex-bank officials on attempted-fraud charges. The men are accused of participating in a plot that included submitting false testimony and inaccurate legal documents in response to a multi-billion-euro lawsuit filed by the late media entrepreneur Leo Kirch and his heirs. The bank and all of the men on trial deny any wrongdoing.
Fitschen's lawyer Hanns Feigen declined to take questions from reporters when asked during a break in Tuesday's hearing.
Criminal Trials
Tuesday's hearing follows a short hiatus. The trial, which is limited to one day a week, last took place on May 18.
Deutsche Bank announced on Sunday that supervisory board member John Cryan would be the next chief executive officer to replace co-CEO Jain at the end of the month and become sole CEO next May, when Fitschen will step down.
The shares jumped on Monday as much as 8.2 percent, the biggest intraday advance since April 2013.
Those gains were pared on Tuesday after the lender announced that its offices in Frankfurt were searched as part of an unrelated probe into securities transactions by clients. The shares dipped as much as 3.7 percent in Frankfurt trading.
Missed Target
Sunday's shakeup is the latest to sweep aside top management at one of Europe's largest banks as firms grapple with stricter regulatory scrutiny and higher capital demands. Cryan, 54, will inherit a lender plagued by billions of euros in legal costs and questions about its revised strategy. Jain, 52, and Fitschen, 66, missed profit targets and presided over a lagging share performance.
Their stepping down may also increase the risk that the co-CEOs may be held liable by the lender for the cost incurred by the Kirch lawsuits in case the criminal case leads to convictions, according to Holzinger. The bank last year settled the civil litigation, agreeing to pay 925 million euros ($1 billion).
"So far, because of all the other problems Deutsche Bank has, the criminal case wasn't really in the public focus," said Holzinger. "This may now change."
The presumption of innocence applies to all current and former management board members, said Deutsche Bank spokesman Armin Niedermeier, declining to comment further.
Hotel Room
In the criminal case, prosecutors claim the bank's management board decided in January 2002 to seek restructuring work from Kirch's group and Breuer was asked to take a lead role in the effort. Breuer questioned Kirch's creditworthiness in a Bloomberg TV interview as part of an attempt to force him to accept the bank's help, prosecutors say. Kirch had a loan from the bank at the time.
Former board member Tessen von Heydebreck, who is also on trial, told the court today that he saw the February 2002 TV interview in a hotel room in Moscow.
"My initial reaction was to shout out 'S--t!'' von Heydebreck said in court on Tuesday. ''You can't talk about a client like this.''
Heydebreck said that with the benefit of hindsight he wouldn't have testified the way he did in 2011, concerning one of the Kirch lawsuits.
When asked by Presiding Judge Peter Noll whether this was a confession, von Heydebreck replied that he didn't intentionally testify wrongly at the time.
The trial continues on June 16. Fitschen may make another statement that day and the lead investigator in the case is also scheduled to testify.
Before it's here, it's on the Bloomberg Terminal.
LEARN MORE