Europe's rout is sparing few companies, making stock picking a challenge.
The Stoxx Europe 600 Index has lost 7.3 percent from its record less than two months ago, and about two-thirds of its shares have fallen each day on average in June, the most since data going back to 2006. Growing concern over whether Greece will remain in the euro area is prompting investors to sell equities, sending the correlation among the region's stocks close to levels not seen since 2012.
"People are getting quite nervous about what Greece means," said Hilary Wakefield, head of portfolio management at EFG Asset Management Ltd. in London. "For them, it's better to sell now and worry about it while they're out of the market. Stock picking goes out the window, and active managers have a very tough time."
For now, investors are looking past data showing that the European economy is recovering and earnings growth is improving. The Stoxx 600 completed its longest streak of losses of the year as Greece delayed a payment to the International Monetary Fund and pulled back on budget concessions to its creditors in new proposals Tuesday.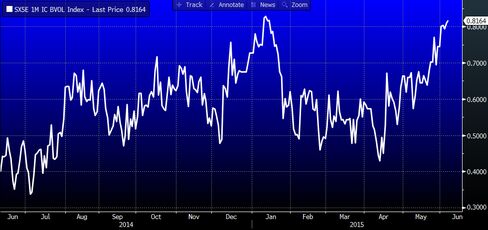 A measure tracking expectations for correlation among Euro Stoxx 50 Index shares has climbed to 0.82, up from 0.43 in April, data compiled by Bloomberg show. This month, 375 Stoxx 600 shares have fallen each day on average, compared with about 285 since mid-2006. The gauge rebounded on Wednesday.
Euro Strengthening
The improving economy and higher inflation are also helping a rebound in the euro -- bad news for exporters. German shares, which led the rally in the first quarter, are now the worst performers among developed markets. The DAX Index has lost 11 percent from its peak in April.
"A lot of investors are questioning themselves if it's still OK to be so much invested in European equities," said Martin Schlatter, a Zurich-based fund manager at Swiss Rock Asset Management, which oversees $1.5 billion. "Depending on the outcome of different crises like Greece, we then later on could see better equity markets -- maybe in the later summer."
Still, volatility expectations have jumped. The VStoxx Index, based on Euro Stoxx 50 options, has rallied 44 percent from this year's low, closing at its highest level since February on June 8.
"Right now, everyone is focused on Greece and whether it can come to a deal with its lenders before month end," said Mandy Xu, a New York-based derivatives strategist at Credit Suisse Group AG. "The possibility of default is what everyone is focusing on."
Before it's here, it's on the Bloomberg Terminal.
LEARN MORE