Elliott Seeks Injunction to Stop Merger by Samsung's Lees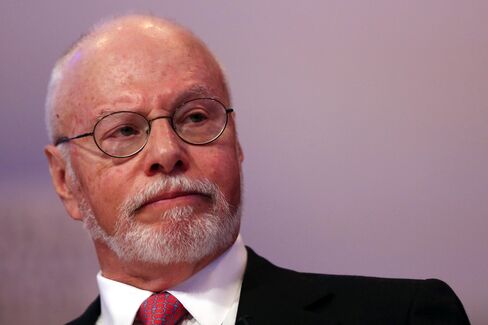 Elliott Associates LP is taking legal action to stop Cheil Industries Inc. from completing a bid for Samsung C&T Corp., creating a new obstacle in the Lee family's efforts to boost control of South Korea's biggest conglomerate.
The hedge fund controlled by Paul Elliott Singer will start proceedings for an injunction to stop the deal, according to an e-mailed statement Tuesday. Elliott is lobbying other investors to oppose the takeover and urging Samsung C&T to use assets to pay dividends.
Singer is putting up new hurdles to the Lees' push to reshape Samsung Group as they prepare for new leadership. Gaining control of Samsung C&T, which holds about $11 billion of shares in other listed chaebol members, would help the family tighten its grip and gain a bigger stake in crown jewel Samsung Electronics Co.
"Elliott's injunction further complicates Samsung's merger plan," said Ra Jin Sung, an analyst at Kiwoom Securities Co. in Seoul. "Samsung needs this merger to go through but now it's becoming more and more uncertain."
Elliott applied for the injunction in Seoul, according to two people familiar with the matter. The court clerk's office declined to comment.
Samsung C&T hasn't received formal notice of an injunction, the construction company said in an e-mail.
'Unlawful' Takeover
Shares of Samsung C&T fell 3.6 percent to 68,000 won in Seoul on Tuesday, giving it a market value of about $9.5 billion. Cheil dropped 0.5 percent to 182,500 won. Tuesday is the last day for investors in Samsung C&T to be eligible to vote their stock at the July 17 meeting to consider Cheil's all-stock bid.
"Elliott continues to believe that the proposed takeover is clearly neither fair to nor in the best interests of Samsung C&T's shareholders, and that it is unlawful," the fund said.
Elliott has a 7.1 percent stake in Samsung C&T, giving it the third-largest stake behind South Korea's National Pension Service and Samsung SDI Co. The fund wrote to both shareholders and said Cheil's offer isn't in the best interests of investors.
Cheil is offering 0.35 share for each Samsung C&T share, the companies said last month. That offer is less than the value of Samsung C&T's shareholdings in other companies. Cheil is the de facto holding company for Samsung Group, a $270 billion business empire.
The Lees control Samsung Group's 67 companies through a web of cross-shareholdings. Patriarch Lee Kun Hee suffered a debilitating heart attack more than a year ago, and leadership of the group is transitioning to his son, Lee Jae Yong.
"Today's announcement shows that Elliott is prepared and willing to do all it can to stop the merger," said Chae Yi Bai, an analyst at the Center for Good Corporate Governance in Seoul. "Regardless of the court's decision, and even if the merger does get approved, Elliott, which will remain a shareholder, will continue to fight against Samsung."
Before it's here, it's on the Bloomberg Terminal.
LEARN MORE