Toyota Lockup Stock Draws Critics Who See Bid to Tame Owners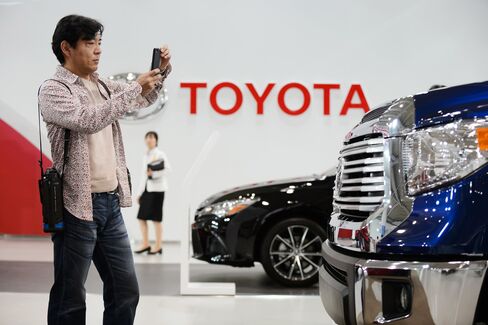 Hiroki Sampei has a long list of things he doesn't like about Toyota Motor Corp.'s new class of equity.
Japan's largest company is about to seek approval to offer as much as 500 billion yen ($4 billion) of convertible equity, which has debt-like characteristics and can't be sold for five years. As part of the proposal, it would buy back an equal amount of common shares, which it says is to avoid dilution.
Toyota's claim that the stock will improve corporate governance by locking in patient owners masks its real intent, which is staunching dissent, according to Sampei, the director of research at Fidelity Worldwide Investment in Tokyo. His views echo proxy adviser Institutional Shareholder Services Inc., which told investors to oppose the motion to create the Model AA shares when they vote on June 16. The California State Teachers' Retirement System is also against the plan.
"I'm skeptical about it," said Sampei. "Creating financial products with no principal risk and favorable yields that must be held for five years goes against encouraging dialogue as shareholders. It will increase owners who are different from the kind of long-term holders that the governance code is seeking to foster."
The unlisted stock pays an annual dividend that starts at 0.5 percent and increases by 0.5 percentage point each year to a maximum of 2.5 percent. After five years, investors can keep it, convert it into common equity or sell it back to Toyota at the issue price. In short, it's a no-lose proposition for buyers, whose principal is safe and can profit if the shares rise.
The carmaker's common shares slipped 0.4 percent as of 10:26 a.m. in Tokyo, paring their gain this year to 10 percent.
Long-Term Development
Toyota plans to fund research and development with the money raised, it said in a statement on April 28. An added benefit will be giving greater voice to medium to long-term shareholders, the company said.
Toyota spent about 1 trillion yen on research and development in the year ended March and projects a slight increase this fiscal year. It had about 2.3 trillion yen in cash and equivalents at the end of March.
Because the principal is protected, Model AA shares will probably be bought by risk-averse Japanese individuals such as pensioners, ISS said in its report. It's hard to imagine these shareholders would push Toyota "for the betterment of the company," the proxy adviser said.
Calstrs, the second-largest U.S. pension fund with $193.1 billion in assets, will vote 4.3 million shares against the proposal because it says the dual-class structure benefits select shareholders exclusively in Japan. It's not in the best interests of all existing Toyota common stock owners, particularly foreign ones, the fund said in a statement Monday.
Glass Lewis
Glass Lewis & Co., another proxy adviser, told clients to approve the offering. Kunio Ito, a professor at Tokyo's Hitotsubashi University who headed a review of Japan's corporate governance, is also more positive, though he has doubts.
"While I think these shares are very good, there are some sensitive points," he said. "It's a problem to give voting rights to holders of what is essentially debt."
Tomoko Aikawa, a spokeswoman for Fidelity in Tokyo, declined to comment on how the asset manager votes at specific companies.
Japan started a corporate-governance code on June 1 that requires listed companies to disclose the economic rationale for owning stock of other firms in arrangements known as cross-shareholdings.
Cross-Shareholding Sales
The new standards are expected to prompt lenders and other companies to sell such shares, leaving more space for investors who are less likely to support management. The banking unit of Mitsubishi UFJ Financial Group Inc. owns 1.2 percent of Toyota, while Sumitomo Mitsui Financial Group Inc.'s commercial bank has 1.1 percent, data compiled by Bloomberg show.
"Given that the stable owners who might be lost through unwinding of cross-shareholdings account for about five percent of outstanding stock, isn't this about replacing them?" Sampei said.
Spokesmen for the two lenders declined to comment. Toyota's cross-shareholdings are considered investments aimed to strengthen competitiveness among suppliers and partners, said Nicholas Maxfield, a company spokesman. They will be unaffected by the corporate-governance code, he said.
Sampei and Calstrs aren't the only institutional investors who're unconvinced.
The shares "seem convoluted," said David Herro, chief investment officer of Harris Associates. His $29.6 billion Oakmark International Fund counts Toyota as one of its top 10 investments. "I don't really understand what the purpose is."
Before it's here, it's on the Bloomberg Terminal.
LEARN MORE