These Charts Show the Astounding Growth in Emerging Market Corporate Bonds
All your corporate bonds are belong to EM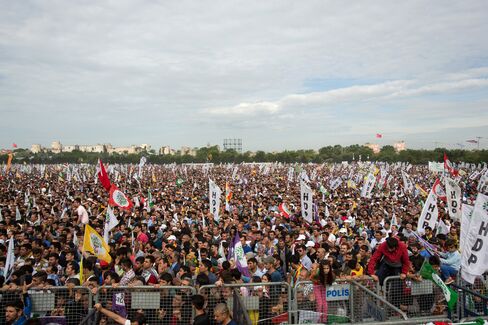 While the size of the U.S. corporate bond market has jumped from $5.9 trillion in 2009 to $7.8 trillion at the end of last year, the debt sold by companies in emerging markets has been selling at an even faster clip.
A new primer from Barclays, which maintains several closely-watched bond indexes, notes that EM corporate debt "has grown more rapidly than virtually every other fixed income segment over this horizon." While still a small portion of the overall credit market, the amount of hard-currency EM corporate debt (such as bonds issues in dollars) outstanding is seven times larger than it was a decade ago. One of out of every five dollars of global corporate issuance now comes from an emerging market company.
Here are some charts demonstrating the dramatic growth of emerging market corporate debt.
To start, EM corporate debt's share of the global credit market has been increasing and now accounts for about 18 percent of all U.S. dollar-denominated corporate debt.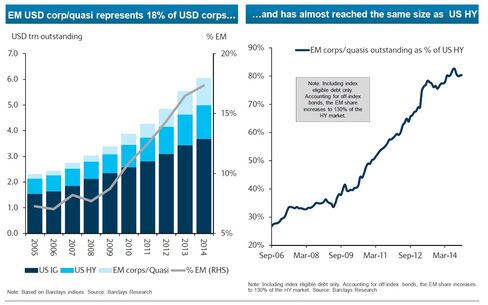 EM corporate debt has also grown faster than than every other fixed-income asset class, including U.S. Treasuries, according to Barclays analysts led by Aziz Sunderji.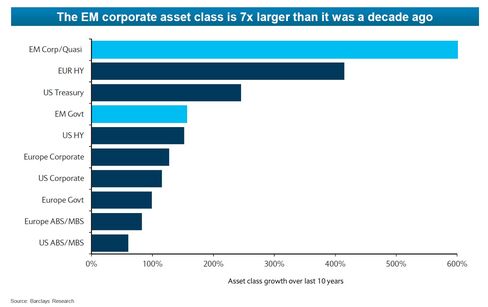 The analysts note that EM companies have been turning to the international bond markets to make up for a slowdown in bank lending. The trend is most pronounced in Brazil, China and Russia.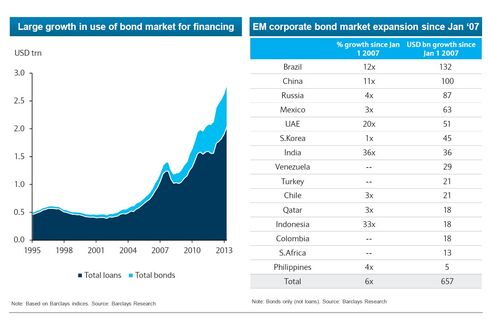 Some have warned of risks lurking in the EM corporate bond market, including low liquidity, currency mismatches and the kind of idiosyncratic risks that traditionally plague EM assets (Turkish elections, anyone?). While the Barclays analysts reckon these risks have mostly been "overstated," they do concede that the EM corporate debt market is generally more difficult to trade than more developed credit and that EM companies will soon "face their first Fed rate hike as a mature asset class."
Before it's here, it's on the Bloomberg Terminal.
LEARN MORE