Obama Said to Tell G-7 Leaders Strong Dollar Poses a Problem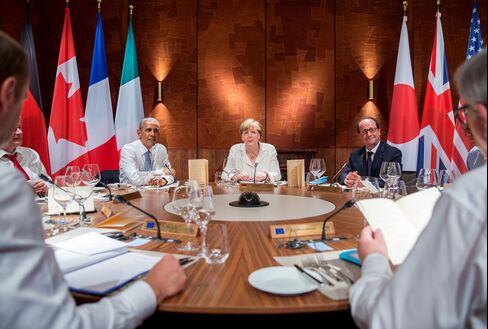 President Barack Obama told fellow Group of Seven leaders that the strong dollar is a problem, according to a French official with knowledge of the talks.
Geopolitical risks including Greece create volatility on financial markets, affecting interest rates and currencies, the official told reporters at the G-7 summit in southern Germany on Monday. In that context, Obama said that the strong dollar posed a problem, according to the official, who asked not to be named because the discussions were private.
The dollar reversed an earlier advance against the euro and fell from Friday's 13-year high against the yen after the comments. The dollar dropped 0.4 percent to $1.1156 per euro as of 8:16 a.m. London time. The greenback weakened 0.3 percent to 125.20 yen.
A White House spokesman didn't immediately respond to a request for comment.
Before it's here, it's on the Bloomberg Terminal.
LEARN MORE