Mexico's 'Bronco' Wins in Nuevo Leon as PRI Keeps House Lead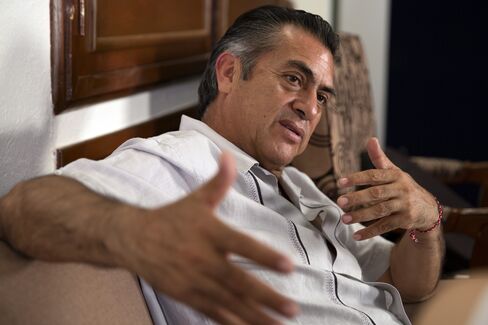 Independent candidate Jaime "El Bronco" Rodriguez defied eight decades of precedent Sunday to win the governor's office in Nuevo Leon, one of Mexico's wealthiest states, in a rebuke of the established political parties.
In national voting, President Enrique Pena Nieto's Institutional Revolutionary Party, or PRI, and its allies are poised to remain the dominant force in the lower house, as forecast by polls, according to the electoral institute. Final results are expected by Wednesday. While protesters held demonstrations in southern states over issues ranging from Pena Nieto's education overhaul to a massacre of 43 students last year, less than one percent of polling stations were unable to open, according to authorities.
Rodriguez's victory deals a blow to the PRI, which has been hurt by drug violence, a sluggish economy and allegations of cronyism surrounding Pena Nieto. Rodriguez, a profanity-prone rancher whose nickname, meaning wild horse, also translates as "The Brazen One," is set to become Nuevo Leon's first governor from outside the PRI and the rival National Action Party, or PAN, in at least 88 years.
"This clearly shows the people's dissatisfaction with the behavior of political parties," Gabriel Casillas, the chief economist at Grupo Financiero Banorte SAB, Mexico's largest publicly-traded bank, said in an interview in Mexico City. "Political parties will have to rethink their strategies. We could see a strong individual, independent candidate run for president in 2018."
PRI Outlook
The results of Sunday's vote will set the stage for Pena Nieto's final three years in office. The president's to-do list includes overseeing the first oil exploration and production deals for private-sector companies in more than seven decades and winning support for legislation to implement a recent anti-corruption overhaul. He's also working on a budget revamp after a 44 percent drop in the price of oil in the last year.
Market reaction was limited early Monday. The peso gained 0.2 percent to 15.6788 per dollar at 8:48 a.m. in Mexico City. The currency weakened to an intraday record low on Friday and has lost 18 percent in the past year as oil prices tumbled and the Federal Reserve moves closer to increasing interest rates.
Yields on local bonds maturing in 2024 fell 0.03 percentage point to 6.26 percent. The benchmark IPC index of 35 Mexican stocks fell 0.1 percent.
"In general it's positive for the market," Carlos Capistran, chief Mexico economist at Bank of America Corp., said in a telephone interview. "The PRI lost a key governorship but held its ground with its allies in Congress. I would also highlight that the elections proceeded better than expected in the sense that there were only isolated disturbances."
Bronco Victory
With 99 percent of the vote in Nuevo Leon counted, Rodriguez had 49 percent support, compared with 24 percent for the PRI's Ivonne Alvarez and 23 percent for the PAN's Felipe de Jesus Cantu. Polling agency Parametria, working with Bloomberg television partner El Financiero, projected Rodriguez as the winner.
The PRI and allied Green Party are projected to have won between 237 and 251 seats in the 500-seat lower house based on a preliminary count of votes, Lorenzo Cordova, the head of Mexico's electoral institute, said on national TV. That compares to 241 seats they currently hold. When combined with the New Alliance Party that has also voted with them, the bloc would have 246 to 263 votes compared with the current 251.
Turnout was about 48 percent, one of the highest rates of participation for a Mexican midterm election, Cordova said.
Stronger Hand
The PRI alliance's performance will give Pena Nieto, 48, a stronger hand in the lower house in his final three years and should ease the process for budget passage, said Duncan Wood, director of the Mexico Institute at the Woodrow Wilson International Center for Scholars in Washington.
The PRI held power nationally for seven decades until 2000, mostly under a patronage system that masked one-party monopoly in the guise of democracy and was dubbed "La dictadura perfecta," or "the perfect dictatorship" by Peruvian Nobel Prize-winning novelist Mario Vargas Llosa. The phrase was borrowed for the title of a popular 2014 Mexican film mocking Pena Nieto, and the perception that other parties still have the political system stacked against them has been a key point for protesters.
'Second' Revolution
In speaking after the close of voting stations and after seeing exit polls that he said favored his candidacy, Rodriguez said he was sending the PRI and PAN off to a six-year vacation and promised a citizens' government.
"Nuevo Leon will be the start of a second Mexican revolution that will change the conscience and attitude of many people," Rodriguez told a cheering crowd of supporters.
During his campaign, Rodriguez said he'd cancel a proposed 17.7-billion peso ($1.1 billion) aqueduct and use the money for parks and recreation centers. He's also said he hates guns and would fight drug gangs by creating better opportunities for underprivileged kids. Rodriguez's only previous elected office was as mayor of Garcia, a town of about 150,000 people about 22 miles from Nuevo Leon's capital, the industrial powerhouse of Monterrey.
Rodriguez will govern a state that borders Texas and is home to companies including cement maker Cemex SAB, autoparts producer Alfa SAB and Coca-Cola bottler Fomento Economico Mexicano SAB.
State Governors
Eight other states elected governors, with the PRI ahead in Campeche, Sonora and Guerrero, where the students were murdered last year. Pena Nieto's party also held slim leads in Colima and San Luis Potosi as of 7:56 a.m. in Mexico City, according to Excelsior newspaper.
The PAN was ahead in Queretaro and Baja California Sur, while the PRD was winning in Michoacan.
At the national level, Pena Nieto's opposition failed to capitalize on weak economic growth that has missed analyst estimates ion eight of the past 12 quarters, a continuing drug war and conflict-of-interest allegations regarding home purchases by Pena Nieto, his wife and finance minister from government contractors.
Rivals pulled punches to avoid bringing greater scrutiny on their own internal divisions and corruption scandals, Roy Campos, head of polling agency Consulta Mitofsky, said before Sunday's vote.
Vote Protests
Pena Nieto cast his vote at an elementary school in Mexico City on Sunday morning alongside first lady Angelica Rivera, calling the day an exercise in democracy. Meanwhile, in the town of Tixtla, Guerrero, near the school where the students killed in last year's massacre had studied, residents defending their right to vote threw stones at demonstrators who blocked their access to polling places and burned ballot boxes, Milenio newspaper reported.
Financiero Bloomberg TV also reported similar protests and interference at polling stations in the southern states of Chiapas and Oaxaca. The protesters included teachers' groups who have opposed government evaluations of their ability and have expressed outrage over the kidnapping of the students last year, Financiero said.
Before it's here, it's on the Bloomberg Terminal.
LEARN MORE