Lending Euros to Warren Buffett Can Hurt Your Financial Health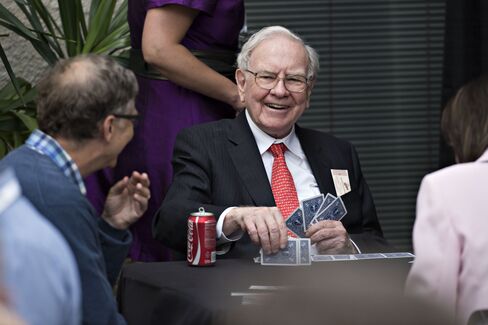 Investors who bought Berkshire Hathaway Inc.'s euro-denominated bonds in March are learning that the biggest beneficiary of the Sage of Omaha's investing acumen is Warren Buffett.
Berkshire's three deals maturing between eight and 20 years and totaling 3 billion euros ($3.3 billion) are all among the 40 worst-performing bonds issued in the single currency this year, data compiled by Bloomberg show. That gives the Omaha, Nebraska-based company Buffett chairs the largest number and greatest amount of underperformers in the ranking.
Borrowers from Berkshire to Zurich Insurance Group AG locked in long-term funding at near record-low interest rates in the first quarter as yields on German government bonds, the benchmark for corporate borrowing in euros, headed toward zero. While the receding threat of deflation and improvement in the euro-area economy have seen yields climb again, securities that were issued at the time have underperformed.
"Warren Buffett's a clever chap; if Warren Buffett is selling, you probably should be too," said Ben Bennett, a London-based credit strategist at Legal & General Investment Management, which has assets of about $760 billion. "Berkshire got their deal done at the absolute perfect time. It's all in the timing."
Berkshire, which is graded Aa2 by Moody's Investors Service and an equivalent AA at Standard & Poor's, is the highest-rated issuer among the 40 worst performers this year.
Buffett didn't respond to a request for comment on the bonds sent to an assistant.
Stock Skills
Dubbed the Sage of Omaha for his stock-picking skills, 84-year-old Buffett has a net worth of about $69 billion, according to Bloomberg's Billionaires Index. Most of his wealth is held in Berkshire, the distressed textile maker he bought into in 1962 and which now acts as a holding company for businesses including its stake in Coca-Cola Co. and auto insurer Geico.
Investors who agreed to lend Berkshire 1 billion euros until March 2035 at 1.625 percent interest have seen the quoted price for the bonds drop to 85.62 cents on the euro from 99.61 cents at issue, according to data compiled by Bloomberg. The yield premium investors demand to hold the bonds instead of German government debt has climbed to 121 basis points from 86 basis points at issue.
Berkshire's 1.25 billion euros of 1.125 percent notes due March 2027 have slipped 8.6 cents on the euro to 90.16 cents, and notes maturing in March 2023 have lost 5.06 cents, Bloomberg data show.
Corporate Notes
Buffett's bonds are among a raft of issues that have dropped as the selloff in government debt extended to corporate notes. Long-maturity bonds, which are more sensitive to changes in underlying rates, have suffered the most in the rout.
"As volatility has returned there is much less appetite to take long-dated exposure," said Tatjana Greil Castro, a London-based money manager at Muzinich & Co. "The volatility in European sovereign bonds has generated a healthy concern about longer duration."
The declines pushed benchmark German 10-year bund yields to as much as 1 percent last week from a record-low 0.049 percent in April. Average yields on investment-grade bonds, which are sensitive to sovereign-debt rates, are at an eight-month high of 1.28 percent from an all-time low of 0.85 percent on March 10, Bank of America Merrill Lynch indexes show.
U.S. companies this year issued a record 62.7 billion euros of bonds to benefit from record-low yields in the region.
General Motors Co., which has the highest junk rating from Moody's and Fitch Ratings and the lowest investment grade at S&P, issued 650 million euros of 2018 notes in February at par to yield 0.85 percent that are now quoted at 98.9 cents to yield 1.24 percent.
By the same token, higher U.S. yields prompted European investors to consider buying on the other side of the Atlantic.
"If U.S. companies like Berkshire are printing deals over here in Europe, then really we should be buying over there," said Luke Hickmore, an Edinburgh-based money manager at Aberdeen Asset Management Plc. "They're not doing it for our benefit, after all, but for their own."
Top Stories: TOP Top Bond Stories: TOP BON Bloomberg Billionaires Index: RICH
Before it's here, it's on the Bloomberg Terminal.
LEARN MORE