GE Said to Near Canada Deal as Ares Seeks Other Loan Assets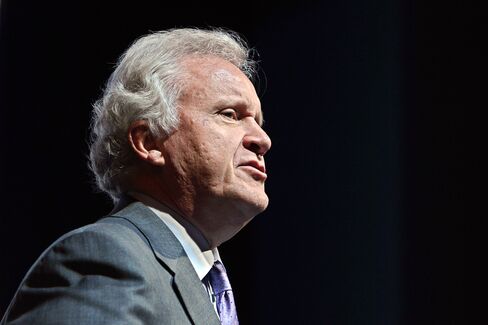 General Electric Co. is poised for a $12 billion deal as soon as Monday to sell more than half of its U.S. private-equity lending arm to Canada Pension Plan Investment Board while Ares Management LP seeks to buy the rest of that business, people familiar with the matter said.
Ares is pursuing a deal for the $8 billion Senior Secured Loan Program it co-manages with GE, said the people, who asked not to be identified because the details aren't public. The firm has lined up investors to help it acquire Senior Secured, one person said.
GE is close to an accord to sell the other $10 billion in assets in the buyout lending unit to Canada Pension after Ares balked at including Senior Secured, the people said. Canada Pension would pay about $12 billion, chiefly for the GE Antares division, they said.
A deal with Canada Pension would mark the first sale of a major business since GE announced plans April 10 to unload about $200 billion of GE Capital assets. Chief Executive Officer Jeffrey Immelt is refocusing Fairfield, Connecticut-based parent GE on industrial operations.
If no GE-Ares agreement is reached in the next few weeks, Senior Secured may stop making new loans and be wound down, the people said. Without an accord, Ares intends to end its GE partnership and start a similar program, one person said. GE is still studying its options, another person said.
Buyout Lending
Seth Martin, a GE spokesman, declined to comment, as did Mei Mavin, a spokeswoman for Canada Pension. A representative of Ares, the credit and private-equity manager run by billionaire Tony Ressler, also declined to comment.
GE's private-equity lending division, also known as the sponsor-finance unit, helps buyout firms arrange funding for takeovers. GE is selling the $6 billion-asset European sponsor unit separately, and could select a buyer within weeks, one person said.
GE has sought a swift sale of the U.S. assets to avert staff defections in a drawn-out divestiture. The company has offered retention bonuses to some employees and put restrictions on the ability of bidders to hire GE's bankers.
Canada Pension, the country's largest such fund manager, has said it doesn't expect to face any regulatory hurdles in buying GE's assets, one of the people said. Canada Pension raised C$1 billion ($804 million) in five-year bonds last week for general corporate purposes, according to data compiled by Bloomberg.
Senior Secured
Senior Secured, the GE-Ares operation, works with companies that need fast credit, helping them refinance their junior and senior debt. Ares' investment in the unit had a fair value of $2.1 billion at the end of 2014, according to the company's annual report.
Ares, Apollo Global Management and Guggenheim Securities also made bids for the sponsor unit, people with knowledge of the matter said last month.
With heavy interest from prospective buyers, the disposal of GE Capital assets is going faster than anticipated, Immelt said in a May 20 presentation. The company could announce as much as $30 billion of sales by the end of June.
GE has begun a separate sale process for most of its $74 billion U.S. commercial loan and leasing unit, people familiar with the plan said last week. The company has hired banks to find buyers for divisions including railcar leasing, vendor finance and commercial-lending operations, the people said.
Immelt has been moving GE away from lending since GE Capital put the parent company at risk during the 2008-09 financial crisis. The move accelerated with the April 10 agreement to sell most of GE's real estate to Blackstone Group LP and Wells Fargo & Co. for $23 billion.
Before it's here, it's on the Bloomberg Terminal.
LEARN MORE