It's 9:30 a.m., and the Mill Creek fire has been raging for two hours. Already more than 400 vacation homes in Incline Village, a resort town on the Nevada side of Lake Tahoe, have been evacuated, and an additional 1,100 houses need to be cleared in the next few hours. Volunteers in fire-resistant yellow shirts knock on the doors of million-dollar mansions, alerting homeowners that they need to leave—now. National Guard soldiers in Humvees patrol the streets to prevent looting. Overhead, a twin-rotor Chinook helicopter, one of four copters on the scene, banks a slow turn and drops 2,000 gallons of water on a plume of purple smoke.
Mike Brown, chief of the North Lake Tahoe Fire District, watches the helicopter and then points to a pink ribbon hanging from a deck railing. Green means the homeowners have evacuated. Pink means they've chosen not to.
"We can't force people to leave," Brown says from behind the wheel of his red Ford F-350. He's driving slowly, taking in as much as he can. He's a big, bald man, with the looks, baritone, and slight lisp of Jesse Ventura. "We can say, though, that evacuating could be the difference between living and dying."
Brown leans out the truck's window and waves to a young woman pushing a stroller down the hill. "Beautiful morning for a walk!" he calls at her.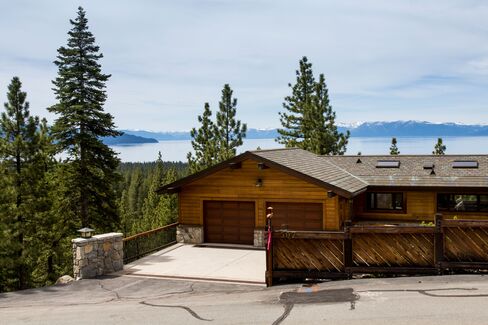 Incline Village wasn't burning—at least not yet. On Saturday, May 30, the town held a citywide fire drill meant to rehearse what everyone should do if a catastrophic wildfire threatened the town's 9,000 residents. Ever since the 2007 Angora fire, a blaze that burned 200 homes in South Lake Tahoe, Brown and other officials have been aware that a fire of similar size could cost Incline Village half its homes. And, given that the Angora fire cost $11.7 million to contain, Brown also knows that fires in the region demand a swift interagency response—the kind of thing that's hard to coordinate without practice.
After months of planning, Brown's drill appeared to be working. A total of 250 first responders arrived for the dry run from nearly every civil service in the area. The Red Cross came to shelter evacuees; the U.S. Forest Service came to help extinguish the faux fire; the local police, Search and Rescue, and the National Guard went door-to-door to warn homeowners; and Animal Services collected wayward pets and housed them in a containment area. Fire drills among first responders are common. Drills that include the whole community aren't.
"I've never heard of a city running a drill like that," says Tony Sciacca, a 41-year firefighting veteran who commands the Forest Service's response to the highest-priority fires. "But attempting to re-create the panic of a real fire is going to make things much smoother when the flames actually hit."
This summer, Western towns have more time to prepare than in most years. On Monday afternoon, the National Interagency Fire Center in Boise, Idaho, the Pentagon of U.S. firefighting, released its latest fire forecasts, and for the first time in three years, drought-plagued California had something to celebrate. An unseasonably wet May knocked the menace out of the early season. In Colorado, Arizona, and New Mexico, storms soaked forests, and in Texas enough rain fell to cover the entire state with 8 inches of water—35 trillion gallons in total. President Obama just signed a declaration of disaster for Texas' floods.
But if all the water was good news for current wildfire conditions, the NIFC's forecast also came with a clear warning: The rains have delayed but not extinguished the potential for calamity.
"It would take 10 rain events like May's to put a dent in California's drought," says Charles Maxwell, a fire weather forecaster in Albuquerque. The latest forecasts put California, Oregon, and Washington, all of which have near-record-low snowpacks, in high fire danger throughout July, August, and September. Under those conditions, as many as 90,000 fires could burn across the country this year, and once the season starts, it could extend all the way into December.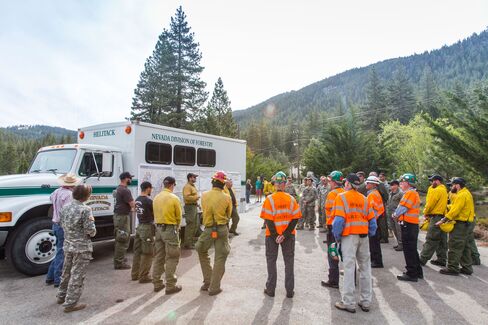 On May 30, Brown and the North Lake Tahoe Fire District were preparing homeowners for a worst-case scenario, but they wanted to keep it "fun and educational," too. They brought in 22 different agencies to set up booths and encouraged homeowners to preassemble evacuation kits with insurance documents, hard drives, and necessities like toothbrushes and medicine. More than 500 people were in attendance at the peak of the event, which had the energy of a kids' science fair. A Forest Service employee in a Smokey the Bear costume greeted folks with a little dance—"Remember, only YOU can prevent forest fires."
"We got the reverse 911 robocall at 8:24 a.m.," says Fred Greifenstein, a local homeowner, while pouring himself a cup of Starbucks provided by the fire department. The call went out to almost 8,000 homes, but Greifenstein, who works in the insurance business and knows the devastating potential of wildfires, was among the first out.
Mike Richards, a Reno-based drone inventor, had a booth between the Nevada Highway Patrol's armored SWAT team Humvee and the Incident Command Trailer, a communication RV that was abuzz with firefighters conducting the faux firefight.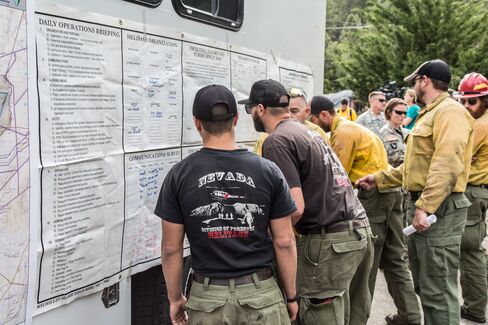 "This summer we got the county's approval to go ahead to fly on fires," he tells me while waxing his drones. Most federal and state agencies still won't allow drones to fly on wildfires, but Richards's Drone America was well past the prototype phase, and he's confident they'll take to the smoky skies in the next few years.
The biggest drone on-site was about the size of an ultralight glider. It can fly 1,100 miles without refueling and do what piloted planes can't by dropping small retardant loads at night or in smoke too thick to see through. The slightly smaller model next to it can carry an infrared camera to map fire perimeters or drop a defibrillator into a remote emergency site. It can also be equipped with sensors to predict future fire behavior or select ideal prescribed fire sites around towns.
At another booth, Elwood Miller stood beside a model home with flames drawn over the air vents, the cedar shake roof, the woodpile beside the house—all the places a spark is most likely to ignite a home. Miller is the fire adapted community coordinator for the Tahoe area, and his job is to convince local homeowners that the best way to save their house from a wildfire is to ready the home before the flames hit.
"The half-life of a natural disaster is six months," Miller says. "But preparing for a wildfire is not only more effective than putting them out, it also costs a whole lot less." Installing fire-resistant siding, vents, and roofing material could cost from $1,000 to $15,000 per home. Fighting fires costs federal, state, and county governments a total of almost $4.7 billion every season.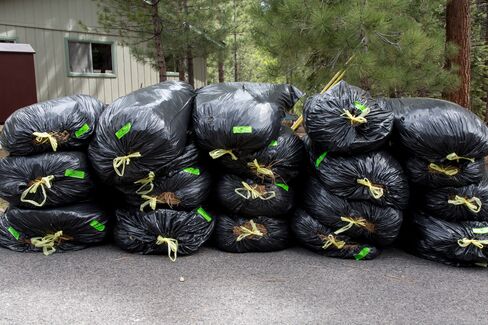 Despite the record spending, there's little evidence that pouring money on the flames is decreasing fire size or destructiveness. Fire seasons now burn six times the acreage they did 40 years ago and three times the number of homes that went up in smoke just 20 years ago. The increases can be blamed on a hundred years of fire suppression, which has allowed fire-adapted forests to grow unnaturally thick, and climate change, which has lengthened drought and fire intensity in kind. Even though fires are proving harder to control, and extinguishing them is bad for forest health, agencies continue to fight wildfires because 140 million people live in fire-prone areas in the U.S. In other words, it's a matter of public safety.
"It's a small miracle when a year goes by where an entire town doesn't burn to the ground," says Dan Bailey, a former incident commander of the country's most destructive fires.
Nationwide, nearly 900,000 homes, or $237 billion in property, have been built in highly fire-prone lands, and the risk isn't confined to vacation towns like Incline Village. Oakland, Calif., and San Antonio are both in high-risk environments. Each city has more than $5 billion in property next to the wildlands. Nowhere, though, is the threat higher than in Denver. By one estimate, a single explosive fire could cause $10 billion worth of damage in the Front Range's biggest city.
Over the past few years, we've seen what happens when a wildfire hits a town. In both 2012 and 2013, almost 500 homes burned in Colorado Springs; an outbreak of blazes razed 2,700 houses in Texas in 2011; and last year, the largest fire in Washington state's history destroyed 322 homes. As Chief Brown likes to say about catastrophic fires: "It's not a matter if, but when."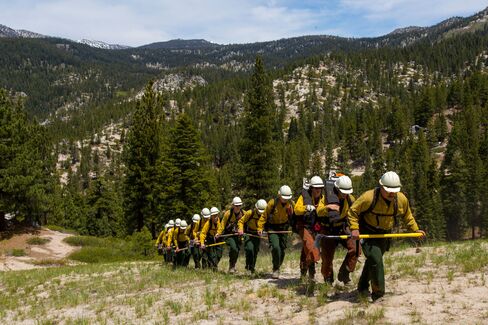 "Angora was a big wake-up call for us," Brown says, as we ride in his truck surveying Incline Village's evacuated neighborhoods. The forests look uniformly manicured with pines spaced roughly 25 feet apart and almost no undergrowth between them. Out front of one sprawling vacation home, three laborers have raked leaves into piles. In front of another, a dozen bags filled with pine needles have been stacked on the curb to be collected by the city later that week.
In the aftermath of Angora, Incline Village has reorganized its approach to forest management and pressed hard to become a national leader in fire preparedness. It hired a second fuels crew, a 20-person seasonal team that used chainsaws and chippers to create a half-mile-wide "halo" of thinned forests around city limits. (Fewer than 20 cities in the country have fuels crews.) Now, when a fire starts in the overly dense Forest Service land surrounding the town and blows toward Incline Village, the flames should decrease in intensity before they raze the houses. Brown's clearly proud of the halo. He's prouder that 80 percent of the town's 9,000 residents have defensible space. No firm data exist on how many homeowners have defensible space nationwide, but experts estimate it's between 2 percent and 15 percent of homes.
"There would be almost nothing we could do to stop a raging fire if our homeowners didn't have defensible space," Brown says. "And the truth is, even with it, there's no guarantee we can stop the most intense fires."
Before the end of the drill, Brown pays a visit to a home where, as part of the interagency plan, Animal Services is helping load Zephyr, a surly 6-year-old Samoyed, into the dog catcher's kennels. Zephyr is in no mood to evacuate.
"Crazy as it sounds, animals can endanger their owners' lives," Brown says. People simply refuse to leave without their pets, even when the animal risks being burned alive.
What happens next is far from a life-or-death struggle. A dog treat or two is all it takes to bring Zephyr around, and he voluntarily leaps into the portable kennel, where he sits silently while his owners clap in delight.
Before it's here, it's on the Bloomberg Terminal.
LEARN MORE