China Billionaires Beat Bank Crunch by Pledging Shares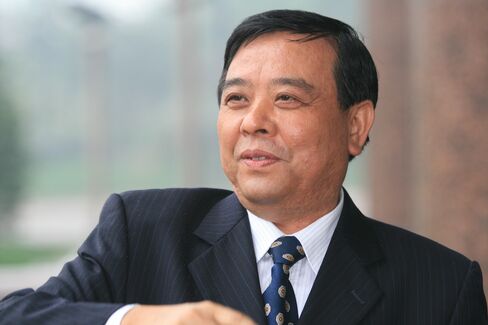 For billionaire Li Hongxin, getting a loan for his closely held hotel and chemical-engineering businesses became harder as Chinese banks tightened credit. His solution: raise the funds himself by pledging shares in his publicly traded company.
"Of course we'd like to borrow from banks to get lower interest rates, but banks are reluctant to lend to private businesses recently," Li, chairman of Shandong Sun Paper Industries Co., China's biggest non-state paper company, said in an e-mailed response to queries. "They have a lot of bad loans amid China's cooling economy."
A rising number of Chinese billionaires such as Li are pledging their stock to fund the expansion of their privately owned businesses as well as their publicly traded ones. At least 10 of these tycoons have collateralized more than 80 percent of their stakes, according to Capital Securities Corp.
About 1.3 trillion yuan ($210 billion) of stock held by key shareholders was pledged as collateral in 2014, according to data compiled by Chinese financial data provider Wind Info. That's almost equivalent to the market value of the world's biggest e-commerce company Alibaba Group Holding Ltd. The amount of collateralized shares has risen with a stock market rally this year that has already minted more than 75 new billionaires, according to the Bloomberg Billionaires Index.
Among Chinese billionaires, Zheng Yuewen, chairman of Shanghai RAAS Blood Products Co., and other key shareholders of the blood supplier pledged their shares 61 times in 2014, the most among publicly traded companies in the nation, according to Wind Info's data.
Cash Flow
Lu Zhiqiang, chairman of China Oceanwide Holding Group, has one of the biggest blocks of pledged stock by market value. The billionaire owns 2.6 billion shares of the Beijing-based property and investment company, of which 99 percent is pledged, according to Oceanwide's first quarter report.
Other real estate tycoons are collateralizing shares amid an increasing need for funds to pay for new property developments, said Han Fuling, dean of Applied Finance at China's Central University of Finance and Economics.
Consolidate Resources
"Through pledging, they can better consolidate resources of their group and create the cash flow when they need," Han said. "It's a stable way for controlling shareholders to make their money flow."
China's richest person, Wang Jianlin, whose property company Dalian Wanda Commercial Properties Co. began trading in Hong Kong in December, pledged about 614 million shares to secure loans for his business, according to the prospectus. The stock set aside as collateral is valued at $5.9 billion, more than 10 percent of his $45.1 billion fortune, according to the Bloomberg index.
Lu and Wang's public relations officials declined to comment on their pledged shares.
Collateralizing stock comes with risk. Lenders can call back the pledged shares if stock prices fall to a certain threshold. The Shanghai Composite Index has climbed 58 percent this year, extending a 49 percent gain in 2014, when it was the world's best-performing benchmark gauge in U.S. dollar terms. The index is trading at 20.6 times estimated earnings, the highest in Asia, according to data compiled by Bloomberg.
'Irrational Exuberance'
Paul Gillis, an accounting professor at China's Peking University, said there's "irrational exuberance" in the stock market and predicts a major correction.
"Nobody worries about it when the market is going up, and it's only when the market suddenly goes down that all these things become problems," he said.
China's economy expanded last quarter at the slowest pace since 2009 and banks have reduced lending for four straight months after bad loans jumped last quarter to the worst since 2008.
Jia Yueting, founder of Leshi Internet Information & Technology Corp., said in an interview with China Entrepreneurs Magazine that the pledged shares are "indeed a risk." Still, he's willing to set aside more than 80 percent of his $9.1 billion stake in the company as collateral because he doesn't want to sell his stock to new investors.
Luo Qimei, a spokeswoman for Leshi, didn't respond to two e-mails seeking comment.
Losing Control
Jia's video-streaming business trades on the ChiNext, part of the Shenzhen stock exchange that tracks small-cap companies on the smaller of China's two bourses. The jump in the ChiNext - - which more than doubled this year -- lured more billionaires of small-to-medium-sized companies to pledge more stock as their cash flow comes under pressure, according to Zheng Chunming, a Shanghai-based securities analyst at Capital Securities.
For Shandong Sun Paper's Li, the risk of setting aside too many shares may become a liability, and he's gradually scaling back, even as his Shenzhen-traded stock doubled this year.
"Once there's debt default, you will lose control of the company," he said. "There was a time when we had pledged a high percentage of shares, because our group company was desperate for money to do some investment. Right now our collateral is limited at about 20 percent to 30 percent."
Before it's here, it's on the Bloomberg Terminal.
LEARN MORE