Turks Vote to Decide on Erdogan's Political Ambitions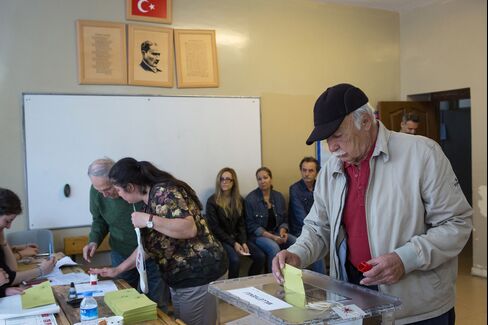 Millions of Turks went to the polls on Sunday to decide on more than just a new parliament. They were asked to vote on whether to give President Recep Tayyip Erdogan a mandate to transform the political system.
The ruling AK Party that Erdogan led for more than a decade before becoming president in August says it wants to rewrite the constitution to shift power from the parliament to an executive-style presidency.
Erdogan says a presidential system is necessary for Turkey to become a top ten world economy by 2023, the centennial of the nation's birth. His critics say Erdogan's increasingly autocratic tendencies are damaging the Middle East's largest economy and key NATO ally in the war against Islamic State. Voting ended at 5 p.m. with results expected later in the day or early Monday.
The vote is about whether "Erdogan's drive to consolidate power and weaken institutional checks and balances is accelerated, stalled or potentially reversed," Anthony Skinner, head of analysis for the Middle East and North Africa at U.K.- based forecasting company Verisk Maplecroft, said by e-mail. "The election is a choice between increased authoritarianism versus a parliamentary democracy defined by the division of power."
To rewrite the constitution, the AK Party must continue its 12-year winning streak at the ballot box and secure two thirds of the parliament's 550 seats. Barring that, the party needs at least 330 lawmakers to take the change to a referendum.
Economic Woes
While polls suggest AK Party is likely to finish first, a fractious election campaign has seen Turkey's main opposition party, the CHP, focus attention on the government's handling of the economy.
After a decade of growth averaging 5 percent, the economy has lost momentum, with unemployment at its highest level in 5 years, the currency plumbing record lows, and a spat between the government and the central bank worrying investors.
The Turkish lira depreciated 12 percent against the dollar this year, the most among 24 emerging market currencies tracked by Bloomberg after Brazil's real.
Economic Stability
The investor-friendly scenario would be an AK Party victory to maintain political stability without an outright majority to avoid concentration of power, according to Ipek Ozkardeskaya, an analyst at London Capital Group.
One of the party's first tasks should it win will be to reconfigure its economic team. While Finance Minister Mehmet Simsek may remain in position, Ali Babacan, the deputy prime minister in charge of the economy, will leave parliament in June in accordance with a three-term limit. Treasury Undersecretary Ibrahim Canakci has already departed and central bank Governor Erdem Basci's term is due to expire in 2016.
"It remains unclear whether the new economic policy leadership will have the skills required to tackle the cyclical and structural macroeconomic challenges facing Turkey let alone unveil a new economic model for the country," Wolfango Piccoli, managing director at Teneo Intelligence in London, said.
Kurdish Kingmaker
Whether Erdogan will succeed in his ambitions may depend on the performance of the pro-Kurdish Peoples' Democracy Party, or HDP, which is aiming to pass the 10 percent threshold of the national vote for the first time, potentially denying AK Party an absolute majority. HDP officials have pledged to prevent Erdogan from consolidating power.
"Turkey isn't just home to Turks, and so to be a democracy HDP must be in parliament," Zeynep Erdem, 25, a homemaker from Ankara, said after she voted. "Erdogan is already acting like a sultan and I don't want to be a subject of his presidential system."
The all-or-nothing structure of Turkey's elections system means HDP won't get a single seat if it can't pass the national threshold. In that case, instability could ensue if the party's Kurdish base takes to the streets, endangering the country's fragile peace process with ethnic Kurd separatists. Prime Minister Ahmet Davutoglu told Kanal7 television on Thursday that the government won't tolerate violence.
High Stakes
Erdogan took to the campaign trail on behalf of the AK Party, ignoring accusations from opposition parties of violating the impartiality of his office.
During one week in May, live broadcasts of Erdogan rallies took up 44 hours, or almost two days of continuous coverage, according to Suleyman Demirkan, an opposition-appointed member of the national radio and television watchdog, RTUK. That's more than all other political party leaders combined, he said.
No details have been given on what a remodeled presidency might look like. Erdogan gave examples of Russia, France and the U.S. as examples of systems that worked well, in an interview with AHaber TV on May 22.
Turkey's parliament was founded by Mustafa Kemal Ataturk in 1920 as part of a secular and Western-oriented system to replace the theocratic Ottoman Empire.
AK Party swept to power in 2002 with a religious agenda that included curtailing the power of the courts and the army, the guardians of Turkish secularism.
About 54 million Turks were eligible to vote on Sunday for 20 political parties and 165 independent candidates. The voting is scheduled to be the last poll until presidential elections in 2019.
"Erdogan's authoritarian brand of politics remains polarizing, and tensions within the country will continue to run high as long as he is in office," Piccoli said by e-mail on May 27. "Turkey's governance crisis is set to remain unsolved, if not deepen."
Before it's here, it's on the Bloomberg Terminal.
LEARN MORE