Myanmar's Suu Kyi to Visit China as She Prepares for Elections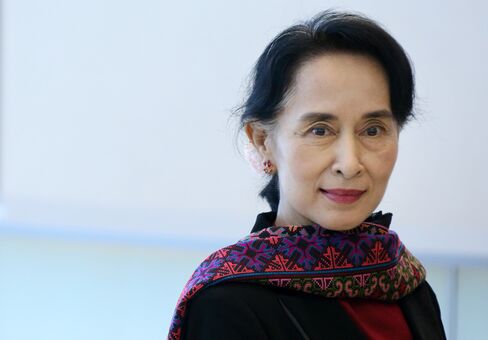 Myanmar opposition leader Aung San Suu Kyi will visit China next week, months ahead of elections in which her party will mount its first nationwide campaign in a quarter of century.
Suu Kyi, who is chairwoman of Myanmar's National League for Democracy, will be in China from June 10 to June 14, Win Htein, a member of the party's executive committee, said Friday. The trip was also announced by the Central Committee of China's ruling Communist Party.
Myanmar has reduced its reliance on China since President Thein Sein, a former general, took power in 2011 and halted some joint projects such as the $3.6 billion Myitsone dam. Relations were tested during a recent flare-up in border fighting between Myanmar's military and a rebel group in which Chinese civilians have been killed and injured.
The visit by Suu Kyi, who spent 15 years in detention under military rule, comes as the NLD gears up to participate in its first nationwide election since the junta refused to recognize her opposition party's win in 1990.
"China is pressuring the Myanmar government to show that it can't damage China's interests," said Fan Hongwei, an international relations professor at China's Xiamen University. "The opposition party in Myanmar is getting more important domestically, and China needs to be prepared and build a better relationship with the party before it takes power."
Ye Htut, a spokesman for Thein Sein, said he had no comment on Suu Kyi's trip.
Reuters reported earlier that Suu Kyi would meet Chinese President Xi Jinping and Premier Li Keqiang, citing an NLD spokesman.
Farmers Killed
China remains Myanmar's largest trading partner, with total trade valued at $10.9 billion in 2013, according to data compiled by Bloomberg.
Ties between the two sides were tested in March after a Myanmar air force bomb landed in Chinese territory, killing at least five farmers and prompting an official apology. The Myanmar government is fighting rebels from an ethnic Han Chinese group known as the Kokang in Shan state, which borders China.
Myanmar's government has accused some rebels of taking refuge across the border in China and called for Beijing to arrest and return them. Earlier in June, China's military announced that it would begin live-fire ammunition drills along the frontier.
Suu Kyi won a Nobel Peace Prize in 1991 for promoting democracy and was elected to parliament during by-elections in 2012. She is constitutionally barred from becoming president.
Suu Kyi has received international criticism for not speaking out against the treatment of Rohingya and other Muslims in the country. The Rohingya, who are denied citizenship in Myanmar, are at the center of a regional humanitarian crisis as they take to the sea to flee persecution at home.
— With assistance by Chris Blake, Kyaw Thu, and Keith Zhai
Before it's here, it's on the Bloomberg Terminal.
LEARN MORE