It Would Take Europe's 13 Richest People to Solve the Greek Debt Crisis
Liliane Bettencourt could cover Greece's June debt obligation by herself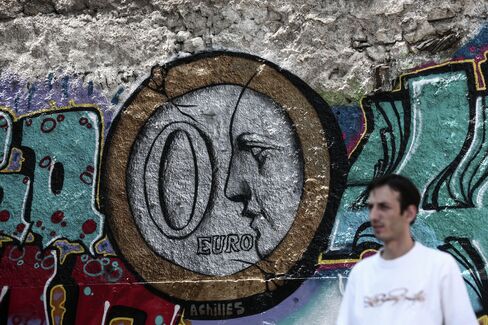 Here's a creative solution to the Greek debt crisis that European Commission President Jean-Claude Juncker probably hasn't considered: tapping the fortunes of Europe's richest people.
The floundering Greek economy and concerns about its possible exit from the euro hasn't hurt the rest of Europe very much, with the largest fortunes on the continent rising 12 percent in the past year, as surging stock markets have mostly shaken off the uncertainty.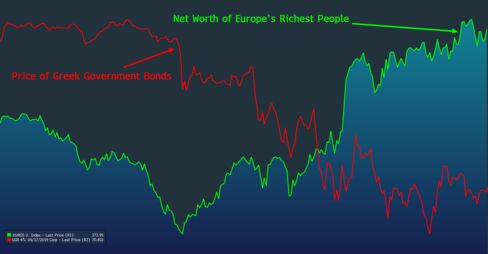 Collectively, Europe's 13 richest people have $378 billion in net assets, according to the Bloomberg Billionaires Index. That's enough to cover Greece's public debt with a little left over. The cash held by Liliane Bettencourt, France's richest person, could cover all of Greece's pending June debt payment of 1.5 billion euros ($1.7 billion). Bettencourt has a net worth of $37.4 billion.
Europe's richest person, Amancio Ortega, has a net cash position of $5 million, according to the index. Ortega, who passed U.S. investor Warren Buffett to become the world's second richest person this week, has collected more than $3.4 billion in dividends from Inditex SA since the company's 2001 initial public offering, and has invested much of that cash into real estate valued at more than $6 billion.
Greek Prime Minister Alexis Tsipras is not likely to benefit from such an act of financial largesse. The 67 billionaires from western Europe on the Bloomberg ranking of the world's richest people have only $113 billion in cash between them. Greece's outstanding debt is hovering at around 170 percent of its GDP, making it a very expensive asset to bail out.
Research for the post is derived from Bloomberg Billionaires Index data. Get the latest intelligence about the world's biggest fortunes on Twitter @bbgbillionaires.
Before it's here, it's on the Bloomberg Terminal.
LEARN MORE