China's Stock Market on Track to Reach $10 Trillion in Value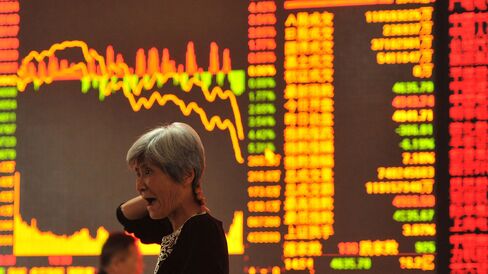 The value of Chinese stocks is poised to reach $10 trillion after a world-beating rally added virtually the equivalent of Japan's equities market this year.
The Shanghai Composite Index climbed 8.9 percent this week, its biggest jump this year, to close above 5,000 for the first time since 2008. Companies with a primary listing in China were valued at $9.7 trillion at the end of trading Friday, an increase of $4.8 trillion since the end of 2014, according to data compiled by Bloomberg. Japan's stock market is valued at $5 trillion, while the U.S. is at almost $25 trillion.
The Shanghai measure has jumped 146 percent in the past 12 months, the most among major global benchmark indexes, spurred by surging participation among individual Chinese investors and record margin debt. Worsening economic data has only fueled bets the government will step up stimulus efforts.
The surge in China's stocks is a "big surprise" given they were among the cheapest in the world last year, said Shen Jianguang, chief Asia economist at Mizuho Securities Asia Ltd. "The question we'd like to ask is whether this is based on a pure bubble or whether the economy can catch up."
The Shanghai Composite trades at about 25 times reported earnings. Eleven months ago, the gauge was valued at approximately 9.6 times, the lowest since at least 1998. The Shenzhen Composite, the smaller of China's two exchanges, trades at 75 times profits, five times the multiple of the MSCI Emerging Markets Index.
Bloomberg's monthly gross domestic product tracker for China is near the lowest since 2009, retail sales grew the slowest in April since 2006, while fixed asset investment rose that month by the least in almost 15 years.
Surging Volatility
While the rally benefits the ruling Communist Party by helping companies reduce debt levels through selling new shares, deepening price swings are challenging the competence of the authorities to maintain financial stability in the face of a record 1.41 trillion yuan ($227 billion) of margin debt.
The Shanghai Composite tumbled as much as 5.4 percent on Thursday, only to recoup all its losses and end 0.8 percent higher. A week earlier, the gauge sank 6.5 percent in one day, before jumping about the same amount over two trading sessions on June 1 and 2.
"Volatility will probably increase," said Wang Zheng, the Shanghai-based chief investment officer at Jingxi Investment Management Co. "The higher the index moves, we'll see more investors take short-term profits."
The rally in mainland stocks has widened their premium over Hong Kong-listed peers to 36 percent, the most since 2011.
Before it's here, it's on the Bloomberg Terminal.
LEARN MORE