Why Body Count Is Bad Metric for Judging Islamic State Fight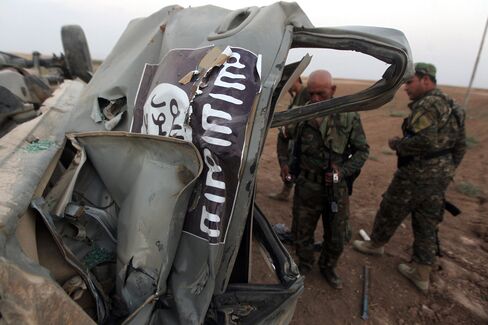 After extremists' latest advances in Syria and Iraq, the U.S. is falling back on an old and discredited metric -- estimated enemy body counts -- to show it isn't losing the war against Islamic State.
Deputy Secretary of State Antony Blinken, filling in at a Paris conference this week after his boss John Kerry broke his leg in a bicycling accident, said the U.S.-led coalition has killed about 10,000 Islamic State fighters since its campaign against the group began 10 months ago.
U.S. intelligence officials, who spoke on the condition of anonymity, and independent analysts questioned the accuracy and value of the number. It's at best a rough estimate relying on limited intelligence capabilities and a poor measure of how the war is going because the militant group appears to be able to replace its losses with new recruits, they said.
The U.S.-led air campaign "hasn't slowed them down," Anthony Cordesman, a military analyst at the Center for Strategic and International Studies in Washington, said in an interview.
The U.S. director of air operations over Iraq and Syria said Friday that "we are taking the enemy off the field in significant numbers" and at a "fairly consistent rate" of about 1,000 a month.
'Single Indicator'
A body count is "only a single indicator, albeit an important one," said Air Force Lieutenant General John Hesterman. "It's probably not the most important indicator," in light of others such as disrupting terrorist financing, he told reporters in a telephone briefing.
The value of disclosing the estimated body count may be mostly political for the Obama administration as it attempts to counter the growing impression that Islamic State is winning, resist pressure to escalate the war and boost the morale of Syrians and Iraqis battling the Sunni extremist group, also known as ISIS or ISIL.
Although Pentagon spokesman Colonel Steve Warren said on Thursday that "it's not a number that we can really concern ourselves with," Blinken defended his use of the figure.
"This was in the larger context" of the loss of Ramadi, the capital of Iraq's Anbar province, Blinken said in a CNN interview.
'Serious Damage'
"It's also very important that people understand" that during the U.S.-led campaign "we inflicted serious damage on ISIL because, keep in mind, part of their strategy is a propaganda strategy," he said. "They are trying to tell young, impressionable people around the world" that they are succeeding when "in fact it's just the opposite."
Two U.S. intelligence officials said the 10,000 figure is a rough guess that could be off by 30 percent or more, probably on the high side.
The absence of reliable human intelligence makes it almost impossible to measure the effect of the air campaign, the intelligence officials said. Information from aerial and satellite reconnaissance, intercepted communications and moderate Syrian rebels is limited and unreliable, they said.
U.S.-led airstrikes have dropped more than 13,000 bombs on targets in Syria and Iraq since August, and the U.S. military issues a running tally of targets damaged and destroyed, which total more than 6,000 including buildings, fighting positions and vehicles. The cost of the U.S. military operations in Iraq and Syria exceeds $2.44 billion, according to the Pentagon, an average of $8.9 million a day.
Unused Weapons
However, underscoring the lack of good intelligence, the Central Command reported that as of April 30, more than three out of four strike aircraft returned without releasing their weapons. Coalition airstrikes are constrained by the absence of forward-deployed U.S. military spotters and by efforts to avoid civilian casualties.
The anti-ISIL campaign hasn't produced results commensurate with the effort, said Cordesman. It's been "strong on total sorties flown (and cost), and weak in terms of both overall combat power and strategic effect," he told a House Foreign Affairs Committee on Wednesday.
Warren at the Pentagon said that instead of assessing progress based on estimates of fighters killed in action, Defense Department planners focus on capabilities, such as Islamic State's funding and resupply. No matter how many have been killed, the current rough estimate for active Islamic State militants remains in the range of 20,000 to 30,000, Warren told reporters at the Pentagon on Thursday.
Extremist Recruiting
"As we kill ISIL fighters, we know that ISIL continues to recruit" although the movement's success at recruiting "has been reduced over time" he said.
Estimates of Islamic State's membership have been "all over the place," said Max Abrahms, an assistant professor of political science at Northeastern University in Boston who specializes in Islamic militant groups. The 10,000 casualty estimate seems high "because there is a widespread view that Islamic State's membership size has been growing," he said.
The use of body counts got a bad reputation during the Vietnam War, when numbers were exaggerated and even fabricated in efforts to show that the U.S. was winning, Abrahms said.
By turning to such metrics now, said Abrahms, the administration seems to be trying to counter the "widespread view that the military campaign against Islamic State is not going well and that the military response has been too passive."
Reinforcing Doubts
Trumpeting the number publicly may backfire by reinforcing doubts about how the war is going and play into militants' claims that the U.S. and its allies are at war with Islam, said the two intelligence officials, who spoke on condition of anonymity to discuss classified estimates,
Even if 10,000 fighters have been killed, the group has been able to replenish its ranks from a widening circle of countries and continues to advance in important areas of Syria and Iraq, they said.
What's more, the growing number of militants killed may not have the effect intended, as Islamic State uses online video testimonials by its "martyrs" to help recruit replacements across the Islamic world and in Europe, North America and Southeast Asia, said one of the officials.
Islamic State's ability to draw recruits has grown stronger over time, according to a United Nations report released last month. It detailed the flow of more than 25,000 foreign fighters from 100 countries to fight with Islamic State and other extremist groups, including the Nusra Front, an al-Qaeda offshoot.
'Finishing School'
"The rate of flow is higher than ever and mainly focused on movement into the Syrian Arab Republic and Iraq, with a growing problem also evident in Libya," the report said. It described the area as a "veritable international finishing school" for extremists.
Fred Hof, who served as President Barack Obama's special adviser for transition in Syria in 2012 and 2013, said Islamic State's continued ability to draw foreign fighters and garner support in Syria is driven by the regime's atrocities against mainly Sunni Muslim civilians and an anemic Western response.
The Islamic State's resilience is also due to ineffective efforts by the anti-Islamic State coalition, which has relied on an air-heavy campaign without sufficient ground combat components, Hof said.
"Guys in vehicles being occasionally harassed from above learn quickly how to adapt," Hof said in an e-mail.
Before it's here, it's on the Bloomberg Terminal.
LEARN MORE