Who Needs IMF When You Have Alibaba? China Sells Bad Debt Online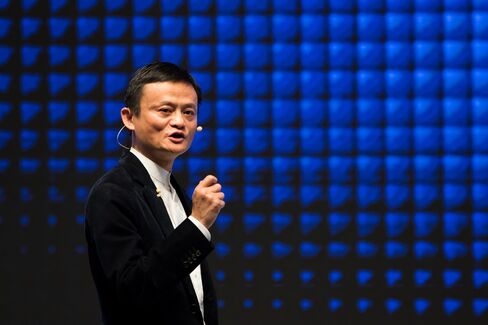 Thirty years ago China may have turned to global development banks for help cleaning up surging bad debts. In 2015, it's tapping Internet billionaire Jack Ma.
Ma's Alibaba Group Holding Ltd. will cooperate with the biggest state-owned loan restructurer to dispose of more than 4 billion yuan ($645 million) of non-performing assets on its online shopping platform Taobao. China Cinda Asset Management Co., which announced the tieup with Ma last week, saw profits rise 32 percent to a record in 2014.
China's non-performing loans climbed by an unprecedented 140 billion yuan in the first quarter to 982.5 billion yuan, the most since 2008 and almost the size of Vietnam's economy. UBS Group AG and Standard Chartered Plc are among companies that bought stakes in Cinda before its 2013 public share sale as a stepping stone into the distressed asset market. Cinda's market value of $23 billion is now larger than KKR & Co.'s $19.1 billion.
"The volume of bad loans in the economy has reached the point where the banks need to be innovative," said Simon Gleave, a partner in charge of KPMG LLP's Asia-Pacific financial services practice in Beijing. "A lot of expertise resides with the asset-management companies and banks have to decide what's the best way to maximize value."
New Player
A Taobao spokeswoman, who asked not to be identified, said the company is "very excited" by the cooperation designed to create an Internet-based non-performing assets market and allow users to invest on a national scale. Two calls and an e-mail to Cinda's investor relations department went unanswered.
Cinda already sold two bad loans on Alibaba's retail site Taobao in April for a combined 24.5 million yuan, according to a China Banking Regulatory Commission statement at the time. Four more were auctioned last month for 31.4 million yuan.
One of the soured loans auctioned in May was originally from Agricultural Bank of China Ltd. with a clothing company in the eastern Zhejiang province as the debtor. Cinda disclosed details such as the name of the borrower, the principal amount, accrued interest and guarantors of the loan on Taobao. Bidders were advised to look at the loan documents and check the collaterals before auction. Both individuals as well as institutions were allowed to bid.
Price Discovery
"Alibaba's online loan auction platform broadens the investor base for bad loans and therefore will lead to better price discovery for distressed assets," said Liao Qiang, a banking analyst at Standard & Poor's in Beijing.
The legal complexities involved in unwinding such debts and the need to divulge information publicly may limit growth in online auctions, according to KPMG's Gleave.
"Alibaba's auction site is just a market place," he said. "Whether that's a good way to trade bad debts is still to be seen."
As banks rush to sell troubled assets, the supply of bad loans on the market is outpacing demand, leading to a fall in prices, according to Victor Jong, a partner in PricewaterhouseCoopers LLP's business recovery services practice in Shanghai. Compared with the 30 to 40 cents on the dollar banks got for their bad debt between 2001 and 2007, prices have dropped to less than 10 cents in some cases, Jong said.
That's contributing to the record profits among the asset-management firms. Cinda recorded net income of 11.9 billion yuan last year. Its shares have jumped about 26 percent over the last 12 months, beating a 19 percent advance in the benchmark Hang Seng index.
Financial Empires
Profit margins among asset-management companies will remain relatively high "because still there aren't that many players," said Li Shanshan, an analyst at Bocom International Holdings Co. in Beijing.
Policy makers set up Cinda, China Orient Asset Management Corp., Huarong Asset Management Co. and China Great Wall Asset Management Corp. in 1999 to clean up a financial system on the brink of bankruptcy after decades of government-directed lending to unprofitable enterprises.
The companies have since built sprawling financial empires. Distressed assets only accounted for 45 percent of Cinda's 2014 revenue with enterprise lending, financial advisory, securities brokerage, commodities trading and wealth management among its other businesses.
Regulators started a trial program last July to allow governments in five places including Shanghai to set up AMCs, and expanded it to five more regions in November, people familiar with the matter said at the time.
"The big picture is the government is aware of non-performing loans at banks and that's why it's coming out with measures to make disposals easier," PricewaterhouseCoopers' Jong said.
China is giving markets a broader role in its economy, opening up its capital account and allowing more defaults as it seeks to have the yuan deemed a reserve currency by the International Monetary Fund. Even so, the central bank has given instructions to lenders not to cut off regional authority projects even if borrowers can't meet payments. China has twice used IMF credits, in 1981 and 1986, and sought technical assistance as its economy opened.
"China is learning how to efficiently recycle capital within its economy," said Gleave.
Before it's here, it's on the Bloomberg Terminal.
LEARN MORE