U.S. Creates Russia Sanctions Loophole to Counter Kremlin Spin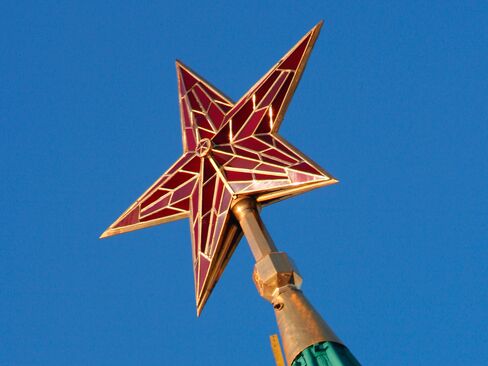 The U.S. has quietly created a loophole in its sanctions against Russia to allow exports of communications software to Crimea so that its people can take to the Internet and chip away at the Kremlin's efforts to control information.
The rule lets companies export social media software for blogging, photo-sharing, instant messaging and other forms of communication in an effort to reduce Russia's ability "to control the narrative of local events," the Commerce Department said.
Moscow's "weaponized propaganda," in one Pentagon official's words, has put the U.S. and European Union at a disadvantage, officials and analysts say, even as economic sanctions hit the Russian economy. The Crimea initiative is part of a broader U.S. push to help people worldwide get free access to news and information.
Some critics say it's a mistake to fight the information battle on Russia's terms, but others say the Commerce Department's move, which gives software companies the legal assurances they need to sell in an area ruled by Russia, provides ammunition for Crimeans who oppose Russia's annexation of their peninsula in March 2014.
The Commerce Department rule appeared May 22 in the Federal Register, where the government publishes agency regulations. That was days before President Barack Obama met with NATO Secretary-General Jens Stoltenberg to denounce Russia's actions in Ukraine and reiterate U.S. support.
Alec Ross, the State Department's former senior adviser for innovation, said the Commerce Department move is consistent with steps the Obama administration took in 2010 in Iran, Syria, Cuba and Sudan. "Technology companies often avoid markets where there is any question whatsoever about the legal terrain," he said.
'Flooding the Zone'
"The Russians have done an excellent job flooding the zone in Crimea with their propaganda. They commandeered broadcast, radio and local social media," said Ross, now a senior fellow at Columbia University's School of International & Public Affairs. "It is in America and Ukraine's interests for there to be technologies and media platforms in Crimea and Eastern Ukraine that the Russians can't control."
Clifford Gaddy, a biographer of Russian President Vladimir Putin and a senior fellow at the Brookings Institution, a Washington policy group, called the move a waste of money.
"It's like going into hand-to-hand combat with Marquess of Queensberry rules, when they have nunchucks." Gaddy said, contrasting the 1867 rules governing boxing with Japanese martial-arts weapons.
The Commerce Department said in a statement that the rule is in U.S. national security interests because it will help Crimeans "describe their situation directly and counter any false messages being propagated by those currently exercising control over the Crimea region of Ukraine."
Russian Support
The U.S. and its allies accuse Putin's government of continuing to provide separatist elements in eastern Ukraine with arms, cash and personnel, even after a February cease-fire agreement. Russia denies the allegations and says many of the fighters are "volunteers" on leave from the military.
Now the truce may be facing the most serious test in three months as the government in Kiev said pro-Russian rebels are staging a major offensive. The U.S. is disturbed by reports of the offensive, State Department spokeswoman Marie Harf said on Wednesday in Washington. "Russia bears direct responsibility for preventing these attacks," she said.
The Commerce Department's move is part of a larger effort to address what Lieutenant Colonel Joe Hilbert, an Army field artillery officer, said is a "lack of a good information policy or information strategy" when it comes to Russia.
Hilbert was speaking at the Center for Strategic and International Studies in Washington about a U.S.-Russia war game conducted by the U.S. Army War College in Carlisle, Pennsylvania. Another speaker, Lieutenant Colonel Christopher Lay, said Russia isn't "constrained by international norms" and can spin narratives the West can't easily counter.
Competing Narratives
"It takes a good bit of lead time in order to gather the facts and figures" to respond with a "truthful message," Lay said May 18. That delay, he said, gives Russia "quite a bit more flexibility" to create competing narratives about whether Russian troops are in Ukraine or who shot down Malaysian Airlines Flight 17.
Gaddy said trying to counter the Russian narrative means the U.S. falls into the trap of reinforcing Moscow's central message: That the U.S. has chosen Ukraine as a new front in a long-running battle to weaken its rival.
"By engaging in this, through the government, in any form, we just reinforce the Russian narrative that this whole thing, everything about Ukraine and Crimea, it's not Russia against Ukraine, no, it's about the U.S. against Russia," Gaddy said.
U.S. Effort
The U.S. effort to report what's happening in Ukraine is directed by the State Department and the Broadcasting Board of Governors and includes U.S.-generated content such as American Embassy Twitter accounts and Russian-language news programming.
The new Crimea export rule fits into a U.S. information policy focused on giving people tools to communicate safely. That effort includes TechCamps that have trained 23,000 participants from 125 countries over the past four and a half years.
A recent camp in Riga, Latvia, brought 68 journalists from countries on Russia's periphery to teach them how to operate in environments where they need secure communication tools. Participants also were taught how to verify content on social media, an increasingly useful skill given documented efforts by Russian groups to plant fake news.
"It's fairly clear we're seeing more efforts from the Kremlin to distort and undermine independent journalism," said Macon Phillips, coordinator of the Bureau for International Information Programs at the State Department.
The camps are about supporting U.S. "priorities such as a vibrant and independent media," entrepreneurship or countering violent extremism, Phillips said. An equally important aspect, he added, was that the camps help participants connect to each other and "build a network."
Read this next:
Before it's here, it's on the Bloomberg Terminal.
LEARN MORE