Sprott Sees Assets Doubling as Braces for Bull Market End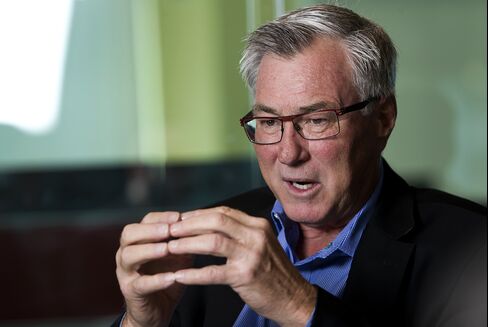 Sprott Inc. aims to double its assets to about C$16 billion ($13 billion) in the next three years by adding consumer and technology stocks to legacy gold holdings as the equity bull market nears an end.
While the Canadian money manager is positive on U.S. and European growth, it's also bracing for volatility as central banks raise interest rates, said John Wilson, chief executive officer of the firm's asset management unit. He's invested in more defensive stocks such as Alimentation Couche-Tard Inc. and CGI Group Inc. that are geared towards international growth.
Canadian software provider Shopify Inc.'s 51 percent surge on its New York trading debut in May underscores the bull market's advancing age, Wilson said.
"That's not the start of a bull market cycle," Wilson said in an interview in Bloomberg's Toronto office. "That tells you where we are in the equity cycle. My best guess is we have a year or two left."
Sprott, founded by gold investor Eric Sprott in 1981, hired Wilson in 2012 to help diversify the firm as the precious metal tumbled. Assets edged up to C$7.8 billion in the first quarter after sliding to C$6.97 billion at the end of 2013 from a peak of C$9.93 billion in 2012.
Non-resource assets now make up about 75 percent of Sprott's actively managed funds, compared with 27 percent in 2012, the company said.
Sprott has risen 4.5 percent to C$2.55 this year, compared with a 3.1 percent gain in the Standard & Poor's/TSX Composite Index. It's down almost 75 percent from a 2011 peak of C$9.60.
No Debt
"We want to double our business in the next three years, and we can do that by offering different kinds of products," Wilson said.
Sprott Asset Management, the unit run by Wilson, has made an offer to buy Central GoldTrust and Silver Bullion Trust via a share swap valued at about $898 million. The offer for the Canadian trusts, which buy and hold gold and silver, expires in July.
Sprott would consider opportunities similar to its proposal for the two trusts should they come up, Wilson said.
"I expect acquisitions, tuck-ins or larger," Scott Chan, an analyst at Canaccord Genuity Corp. in Toronto, said by phone. "Sprott's been looking at acquisitions, they have a strong balance sheet. They have the people to manage C$15 billion, they're just half-way there."
Sprott carries no debt and had C$119.6 million in cash and near-cash items on its balance sheet, according to the company's first-quarter filings.
ETF Opportunity
Another lucrative area of growth would be additions to its stable of two exchange-traded funds currently available in the U.S. -- the Sprott Gold Miners and Junior Gold Miners ETFs.
"They're in an envious position on the ETF side because ETF growth in the U.S. has outpaced the active side, and that growth will accelerate," Chan said. "If you have a good, niche product you can grow."
Wilson's more diversified funds have been popular with retail investors and his hire, along with recent additions of equity fund managers James Bowen and Jonathan Wiesblatt in November, highlight Sprott's efforts to be more than a resource manager, Chan said.
"It's not a one-trick pony," he said.
For now, Wilson is focusing on capitalizing on U.S. and European growth.
Rate Accident
Wilson's flagship Sprott Enhanced Equity Class fund, which hedges its Canadian and U.S. stock positions with options, has returned 7.1 percent this year as of June 3, compared with a 4.5 percent total return in the benchmark S&P/TSX Composite Index and 3.4 percent from the S&P 500.
The U.S. Federal Reserve is likely to raise rates in September, and the Bank of Canada is unlikely to follow given Canada's sluggish economy, creating a rate differential that could weaken the Canadian dollar further and make domestic companies more competitive, Wilson said.
Couche-Tard, CGI Group and Element Financial Corp., which all do a majority of their business in the U.S., have rallied at least 47 percent in the past year. The C$805 million fund has 16 U.S. names and 14 Canadian names, Wilson said.
With the Fed likely to stretch out interest rate increases over a period of years, the chances of a market disruption interfering with this "long glide path" rises, Wilson said. That would give Sprott's gold and other resource holdings a tailwind.
"That's your bull case for other assets," he said.
Before it's here, it's on the Bloomberg Terminal.
LEARN MORE