Mexicans Are Furious With Their President, But Vote Won't Show It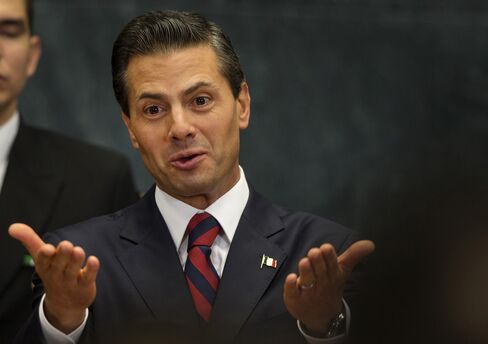 When Enrique Pena Nieto was elected president three years ago, he was widely viewed outside Mexico as a savior -- a media savvy, model-handsome leader who would guide the nation away from gang warfare and poverty.
It didn't take too long for the story to turn sour. Last fall, dozens of students were murdered by a drug cartel linked to local officials in a southern town, economic growth failed to pick up and allegations arose of cronyism involving Pena Nieto, his wife and his finance minister. The president's popularity crumbled. Thousands took to the streets in outrage.
Yet this Sunday, at elections midway into his six-year term, voters appear unlikely to express that anger at the ballot box. Polls reveal little appetite for punishing unfulfilled promises or empowering a fragmented opposition. While Pena Nieto's Institutional Revolutionary Party, or PRI, may lose seats, its coalition is projected to retain its near-majority in Congress thanks to gains by allied parties.
Roy Campos, head of Consulta Mitofsky polling agency, said that a PRI election victory would be less a vote of confidence for Pena Nieto than a failure by the opposition to capitalize on the government's tainted reputation -- because rivals fear exposing themselves to greater scrutiny.
"No one dares to throw the first stone because everyone has something to hide," Campos said.
The opposition has not, he said, run aggressive campaigns spotlighting alleged conflicts of interest in home purchases from government contractors by the president, his wife and the finance minister. All have denied wrongdoing. Pena Nieto's press office declined to comment.
The peso has weakened 13 percent against the dollar since the first house scandal broke in November, a period that coincides with a 25 percent drop in the price of oil, which accounts for about a third of government revenue. The peso slid the most after the Brazilian real among 16 major currencies tracked by Bloomberg.
Ending Oil Monopoly
In his first two years in office, Pena Nieto had success with plans to boost competition in the nation's telecommunications industry and end the state monopoly on oil production -- the most important economic policy change since the North American Free Trade Agreement took effect in 1994. Those victories won him a portrait on the cover of Time Magazine in February 2014.
But no matter what happens on Sunday, Pena Nieto will hardly be able to rest on his laurels. Gross domestic product growth has missed analyst estimates in eight of the past 12 quarters and has trailed the U.S. for two straight years. Economists have cut their forecasts for this year's expansion to 2.7 percent, down a percentage point in the last seven months, according to a central bank survey.
Like so much in Mexico, the elections have been tainted by violence. Since the start of campaigns, at least four candidates for public office have been killed. Activists and a teachers union are calling for election boycotts in poorer southern states, where a group burned 116,000 ballots this week.
Drug Warfare
The violence spotlights Pena Nieto's inability to pacify a country riven by drug warfare that has left 70,000 dead and more than 20,000 missing since 2006.
One reason Pena Nieto's grip on power is unlikely to loosen much is that his coalition partners, including the Green Party, have a chance to pick up any seats his own party losses.
In the state of Nuevo Leon, some polls show an independent candidate has a chance to beat out established parties to become governor for the first time in at least 88 years. The state, bordering Texas, includes the industrial powerhouse of Monterrey and is home to companies including cement maker Cemex SAB, auto parts producer Alfa SAB and Coca-Cola bottler Fomento Economico Mexicano SAB.
Independent candidate Jaime Rodriguez, known by the nickname "El Bronco," has a commanding lead over the PRI candidate, Ivonne Alvarez, according to a June 3 poll by El Norte newspaper. A GEA-ISA poll, however, released June 2 showed voters favoring Alvarez.
National Action Party
The National Action Party, known as the PAN, which favors less state involvement in the economy and supported Pena Nieto's energy opening, is likely to remain the second-largest party in the lower house with a similar number of seats to the 114 it won in 2012, according to Mitofsky.
The PAN held the presidency for 12 years after 2000. During those administrations, led by Vicente Fox and Felipe Calderon, Mexico fell from Latin America's second-richest to fifth among major economies. Violence also escalated after Calderon sent the army to fight drug cartels, and the party's candidate finished third in the 2012 presidential vote.
"The PAN is still recovering from a big deterioration in prestige from its time in government," said Alfonso Zarate, a political consultant who works with public-sector clients and business groups.
Murdered Students
The Democratic Revolution Party, or PRD, which supports a larger government role in the economy and backed tax increases pushed by Pena Nieto, is poised to lose seats. The party was tarnished by the murder of 43 college students in Iguala, south of Mexico City. The town's mayor, a PRD politician, was accused by the federal government of collaborating with the drug cartel that kidnapped and killed the students.
Participation in midterm elections in Mexico, where voting isn't mandatory, is normally low, and it may be particularly so this year, said Alonso Cervera, an economist at Credit Suisse Group AG. Attention nationally may be focused on the Mexican soccer team's friendly match against Brazil on Sunday afternoon, he said.
Turnout was 45 percent in 2009, the most recent midterm elections, and 41 percent in 2003, according to Mitofsky.
"I would expect participation to be very low," Cervera said. "Those who stay at home or refrain from voting are reflecting some of their sentiment about the political system. I don't expect the congressional agenda to be heavy over the last three years of the Pena administration -- most of the reforms have already occurred."
Before it's here, it's on the Bloomberg Terminal.
LEARN MORE