London Adds Cyclists as Death, Serious Injury Rates Fall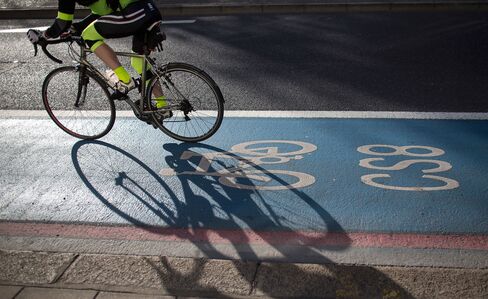 More cycling trips in London are being made and fewer riders are falling victim to the capital's road traffic, according to official data published Thursday.
The total number of cycle journeys rose 5 percent in 2014 from a year earlier to about 610,000 a day. The number of cyclists killed or seriously injured on the capital's roads fell to 432, a drop of 12 percent from 2013 and the lowest number since 2006, when there were fewer cycling journeys.
"These figures are tremendously encouraging and will, I hope, give even more people the confidence to get on their bikes," London Mayor Boris Johnson said in a statement. A "population explosion" in the capital means cycling still needs to be safer, he said.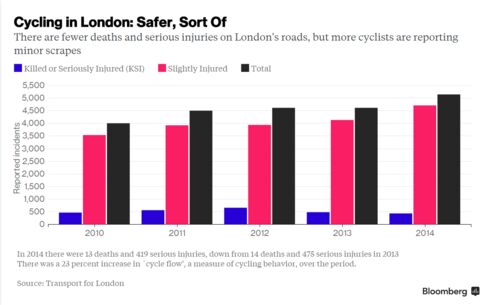 The capital's most dangerous junctions include Trafalgar Square in Westminster, which is on the route between the House of Commons, to which Johnson was elected last month, and his north London home.
The Elephant and Castle roundabout in south London saw at least 80 incidents between 2009 and 2013 involving cyclists and motorists, making it London's most dangerous junction, according to a survey published in February by insurance company Aviva Plc.
The research found a majority of incidents involved vans or heavy goods vehicles and that male cyclists were more likely to wear a helmet than females. Five of the six cyclists killed on London's roads so far this year were women, including physiotherapist Esther Hartsilver, 32, who died after a collision with a delivery truck on Friday, the capital's Evening Standard newspaper reported.
Transport for London is investing in segregated "cycle superhighways," better junctions and "quietway" back-street cycle routes to protect cyclists and make their journeys more pleasant. Still, the number of slight injuries rose to 4,714 last year from 4,134 in 2013, according to the figures from TfL.
Before it's here, it's on the Bloomberg Terminal.
LEARN MORE