In Places Where Banks Don't Exist, the Mobile Phone Breaks New Ground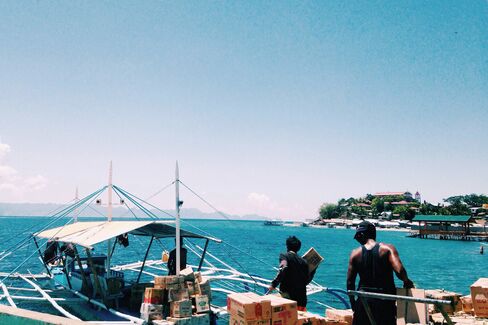 As a schoolgirl in Manila, Vilma Fetesio would stand at the dock each month with her brother and other children, waiting for boatmen to bring them money from their parents on other islands. Sometimes, in rough weather, the boats didn't come.
"We waited at the port the whole afternoon, at times the whole day," said Fetesio, now 42 and a teacher back on her native Culion island. "During the typhoon season when no boats sailed, some of us would go hungry."
Culion, a day's journey across the South China Sea from the capital, once housed the world's largest leper colony and was called "the land of no return." It's one of 604 municipalities in the Philippines that don't have a bank, a deficit the monetary authority is trying to overcome by encouraging the adoption of mobile phone transactions. Reaching the 78 million Filipinos who don't yet use their mobiles for payments may yield about $2 billion in additional monthly transactions, according to Bloomberg estimates based on data from the central bank and telecom firms.
"It's expensive to reach the unbanked, to know them, to understand them, develop products for them," said Pia Bernadette Roman-Tayag, head for inclusive finance advocacy at Bangko Sentral ng Pilipinas. "Technology is narrowing that cost."
There are no banks in more than a third of the country's 1,600 cities and municipalities, from the mountainous Kibungan town north of Manila to the Turtle Islands in the southern-most province of Tawi-Tawi. In contrast, the ratio of mobile SIM cards to the Philippine population was 114 percent last year, higher than the 95 percent global average.
No Armored Trucks
"If you go to the mountains, you won't find an armored truck," said Lorenzo Tan, president of Bankers Association of the Philippines, the country's largest group of lenders. "The only way you can transfer money is through your phone."
About 50 million Filipinos -- almost three quarters of the adult population -- don't have a bank account. That compares with about a fifth in Malaysia and Thailand, according to the World Bank. Most are poor farmers or live in remote parts of the 7,000-island archipelago. In their cash-based economy, many turn to pawn brokers or loan sharks who advance money against land or jewelry and charge interest of up to 20 percent a month.
"It's a huge market at the bottom of the pyramid," said Rob Nazal, chief development officer at BPI Globe BanKO Inc., or BanKO, which had more than 1 million electronic bank accounts last year. "There are so many barriers to traditional banking."
The Philippines is seeking to replicate the success of models including M-PESA in Kenya and bKash in Bangladesh. In the Philippines, it's the central bank that's leading the charge. Bangko Sentral allowed banks and mobile services companies to offer mobile-banking accounts in 2009 and by 2014, there were 27 million of them, more than half the 45 million traditional bank deposit accounts in the country.
Pilot Service
BanKO, a venture of Ayala Group's Globe Telecom Inc. and Bank of the Philippine Islands, was the first to offer a mobile-payments service. Telecom firm Smart Communications Inc., part of the Metro Pacific Investments Corp., offers remittances and bill payments via mobile.
There were 217 million mobile-phone transactions in the Philippines in 2013, worth $692 million a month, a 64 percent rise in value from 2010, central bank data showed.
Now, central bank Governor Amando Tetangco plans to expand the system with the introduction of a national mobile-phone payment gateway this year as the centerpiece of the bank's financial inclusion program. The plan will be unveiled July 1.
The expansion helps bring more money into the formal banking system, which "can mobilize funds quicker and more efficiently," said Peter U, dean at the University of Asia and the Pacific School of Economics in Manila. "Funds from the unbanked can be put to more productive uses like lending to industries or small enterprises."
On Culion, where the U.S.-built leper colony was finally converted to a municipality in 1995 after 89 years, Fetesio now sends money to her children studying in Manila via her mobile phone. They can withdraw it within minutes at an agent in the city.
"My son and daughter don't have to wait at the port like I did," Fetesio said. "It helps me sleep at night."
For more, read this QuickTake: My Phone Is My Wallet
Before it's here, it's on the Bloomberg Terminal.
LEARN MORE