Georgetown Joins Stanford in Divesting Its Endowment From Coal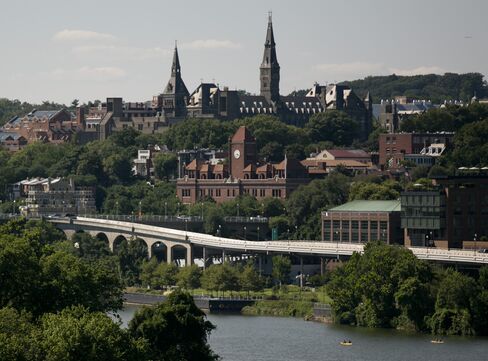 Georgetown University will no longer make direct investments in coal companies, joining Stanford and other schools that have targeted the industry because of its contribution to climate change.
Georgetown, a Catholic university in Washington with a $1.5 billion endowment, said it will encourage external investment companies that help manage its portfolio to also avoid coal companies. The board's decision came in response to a student-led campaign seeking divestment from 200 publicly traded companies with the largest reserves of oil, gas and coal.
"The work of understanding and responding to the demands of climate change is urgent and complex," President John DeGioia said in a statement. "It requires our most serious attention."
Divestment campaigns are dividing colleges across the U.S. as some of the wealthiest schools such as Harvard and Yale decline to cut their holdings. These schools say investment pools should be managed to generate the strongest returns and that the colleges are fighting climate change through research and teaching.
Georgetown is still evaluating its portfolio, according to spokeswoman Rachel Pugh. She said "an insubstantial amount" of the endowment is invested in companies whose principal business is coal mining.
Student activists with Georgetown Fossil Free thanked the school for what they called a "tiny step." The group said Georgetown hasn't gone far enough because it will still hold stakes in oil and gas companies, "undermining its Jesuit values and global reputation as a moral leader."
Stanford, which has a $21.4 billion endowment, made a similar announcement in May last year after students demanded it divest from all fossil fuel companies. Oxford University last month said that while it had no direct holdings of coal and oil sands companies, it would make those investments off limits in the future.
Before it's here, it's on the Bloomberg Terminal.
LEARN MORE