Disney's ABC Family Debuts Transgender Show Amid Jenner Reveal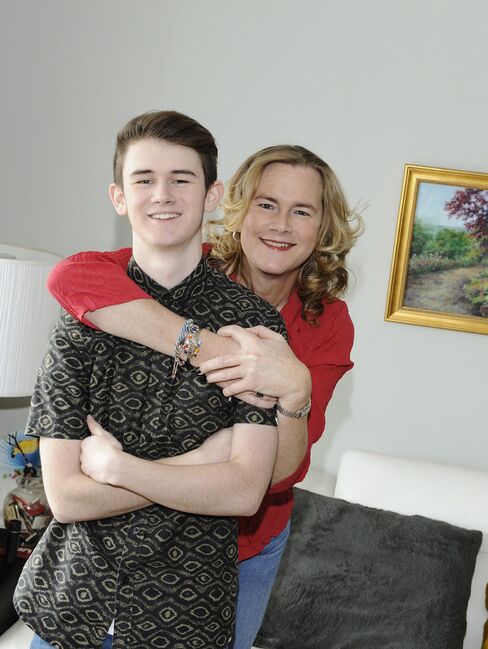 Walt Disney Co.'s ABC Family network will debut its first reality show starring a transgender person, gaining visibility from the widely publicized photos this week of transitioning TV dad Caitlyn Jenner.
"Becoming Us," airing Monday, is an unscripted look at life for Ben Lehwald, an Evanston, Illinois, teen whose father, Charlie, is becoming a woman named Carly. In a preview clip, family members wince at a photo of gender reassignment surgery and Ben meets the parents of his girlfriend, Danielle, whose father is also transitioning.
The show stands to benefit from the surge in publicity surrounding Jenner, the Olympic gold medalist formerly known as Bruce, who appears on the cover of Vanity Fair magazine in a form-fitting corset. ABC Family has committed to 10, one-hour episodes, produced by TV host Ryan Seacrest. Jenner's own E! network documentary series "I Am Cait" debuts July 26.
"It's a moment in our society when the world is focusing on transgender issues," Tom Ascheim, president of ABC Family, said in an interview. "It only helps us."
ABC Family has often led other networks in its portrayal of lesbian, gay, bisexual and transgender, or LGBT, characters, according to Matt Kane, director of entertainment media for Glaad, the New York-based advocacy group.
The entertainment industry's embrace of gender issues reflects changes in attitude taking place in society, including greater acceptance of gay marriage. This week, the U.S. Labor Department issued best-practices guidelines that recommend transgender employees have access to the restrooms that correspond to their gender identity.
'Identity Questions'
ABC Family's most-watched show, "Pretty Little Liars," features a lesbian character and teen girls kissing each other. Its No. 2 performer, "The Fosters," is a one-hour drama about the family life of a biracial lesbian couple. Last year, programmers added a story about a teenager in transition.
ABC Family is targeting 14-to-34-year-old viewers who are in a period of their life when they are discovering who they are, according to Ascheim.
"The questions of identity become a very natural storytelling vehicle," Ascheim said.
The potential viewer response to "Becoming Us," as judged by online polling, is positive, he said. And while there are some advertisers who take a wait-and-see approach to edgier programming, the network's June commercial inventory is sold out, he said.
"Advertisers can't buy enough and it's our highest-price inventory," Ascheim said of "Pretty Little Liars."
Audience Ratings
ABC Family's ratings among 18-to-49-year-old viewers are little changed this season, according to Nielsen data, while overall cable TV viewing is down 7 percent in that sought-after demographic group.
"There's been a siphoning off of younger viewers to streaming video," said Brad Adgate, senior vice president of research for media buyer Horizon Media Inc.
The channel first went on the air in 1977 as an arm of televangelist Pat Robertson's Christian Broadcasting Network. It was purchased by Disney in 2001 in a deal requiring the channel to air Robertson's news and opinion show "The 700 Club" daily. After the program featured commentary critical of gays, ABC Family began running a disclaimer.
"We're compatible neighbors, we don't occupy the same space," Ascheim said.
Chris Roslan, a spokesman for Robertson, said he wasn't aware of any comments the televangelist had made critical of ABC Family's programming.
Popular Topic
With "Becoming Us," ABC Family joins a growing list of programmers airing shows featuring transgender characters after "Transparent," carried on Amazon.com Inc.'s streaming service, won a Golden Globe Award in January for best comedy.
"This is an area that had been untapped ground until a few years ago," Horizon Media's Adgate said.
In April, Discovery Communications Inc.'s Discovery Life channel introduced "New Girls on the Block," a reality series featuring six transgender women, while its sister network TLC has "I Am Jazz," starring 14-year-old activist Jazz Jennings coming in July.
One Million Moms, a group affiliated with the conservative American Family Association in Tupelo, Mississippi, has called on ABC Family to drop "Becoming Us," calling it anti-family.
Ascheim said that won't happen.
"The audience is much readier for this conversation than I think a lot of people credit them with," Ascheim said, citing his own three kids. "The issues around gay rights, including LGBT rights, are their civil rights. I think it's the rest of us that need to catch up to the younger people."
Before it's here, it's on the Bloomberg Terminal.
LEARN MORE