Bill Gross Sets His Sights on This Chinese Stock Market
One of the world's most famous bond investors can't take his eyes off Shenzhen's stock market.
Bill Gross, busy building his new Janus Global Unconstrained Bond Fund amid a global rout in debt markets, took to Twitter on Wednesday to declare that shares in the southern Chinese city are the next big trade for short sellers.
So what's going on in Shenzhen -- the former fishing village opposite Hong Kong -- to grab the attention of the erstwhile Pacific Investment Management Co. bond king 7,300 miles away in California?
For starters, the city's stocks are valued at the most expensive levels worldwide. The exchange's market capitalization now exceeds that of the U.K., while just five of the bourse's more than 1,700 shares have lost money this year. The benchmark index has surged 191 percent in 12 months, a move Gross called "almost hyperbolic" in an e-mailed message on Wednesday. It tumbled as much as 6.2 percent on Thursday before closing 0.6 percent lower.
Shenzhen, which is reinventing itself as a hub for technology workers and entrepreneurs, has become the epicenter of the growing mania for Chinese stocks as investors bet the world's most-populous country can transform itself into a services-driven economy.
The big question, of course, is how long the rally will last. Gross, for his part, says that the end is near, though "Not just yet..."
The following four charts show why Shenzhen's stock market is getting so much attention.
*Valuations: The city's benchmark index trades at more than 40 times projected earnings, the highest level among gauges in major stock markets worldwide. The tech-heavy Nasdaq index in the U.S. has a multiple of about 23.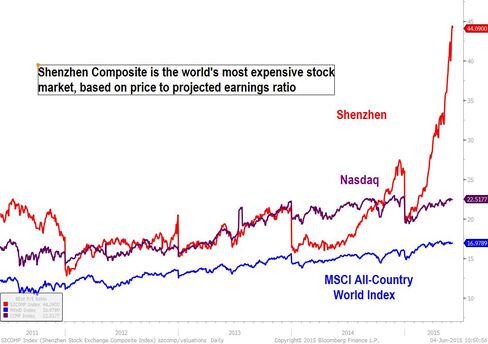 *Market capitalization: The Shenzhen Composite Index's value has more than doubled this year to $4.7 trillion. That's bigger than the U.K.'s entire stock market and is closing in on Japan's $5.1 trillion.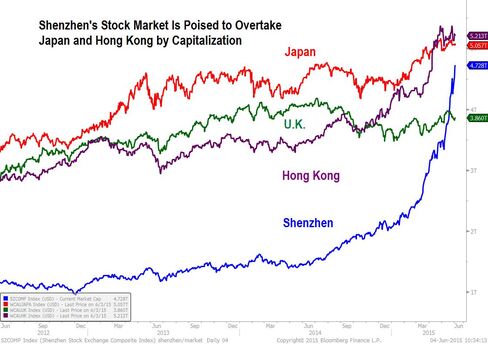 *Performance versus Shanghai: The smaller of China's two main stock exchanges, Shenzhen has been trouncing its larger counterpart this year as technology-focused firms outperform banks and energy companies.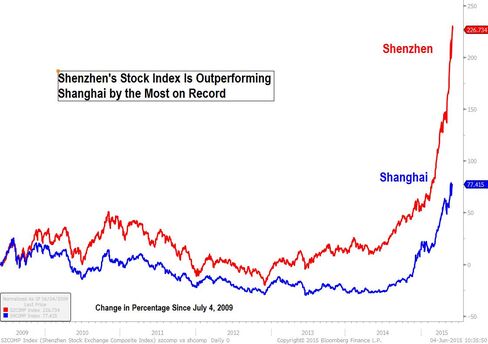 *Turnover: More than 965 billion yuan ($156 billion) of shares changed hands in Shenzhen on Wednesday, near the record high of 1.1 trillion yuan on May 28. That compares with about $245 billion on all U.S. exchanges.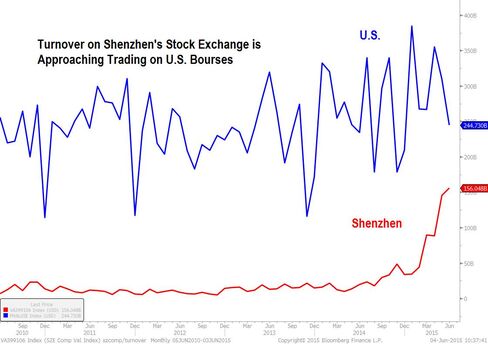 Before it's here, it's on the Bloomberg Terminal.
LEARN MORE