Nigeria Military Must Be Probed for War Crimes, Amnesty Says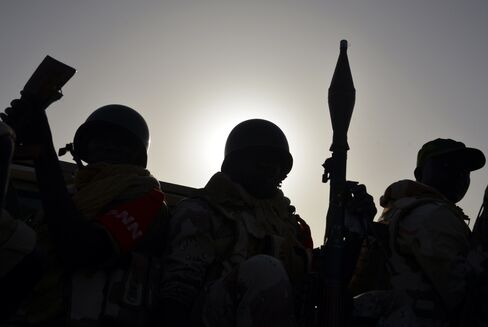 The Nigerian forces and some of its most senior officers must be investigated for war crimes after more than 8,000 deaths over a four-year period, according to Amnesty International. A military spokesman rejected the allegations.
Since March 2011, more than 7,000 young men died in military detention, while more than 1,200 people were unlawfully killed since February 2012, the London-based rights group said in a statement handed to reporters on Wednesday in the Nigerian capital, Abuja. Amnesty named and called for an investigation of three Major Generals and two Brigadier Generals, as well as four current and former chiefs of staff.
"Thousands of young men and boys have been arbitrarily arrested and deliberately killed or left to die in detention in the most horrific conditions," said Salil Shetty, Amnesty's secretary-general. "It provides strong grounds for investigations into the possible criminal responsibility of members of the military, including those at the highest levels."
Nigeria's military has been fighting to stop a six-year campaign by the Boko Haram Islamist group to impose its version of Shariah law on Africa's biggest oil producer. Amnesty said in April that at least 5,500 civilians had been killed by Boko Haram since the start of last year.
Arbitrary Detentions
At least 20,000 young males have been arrested by the armed forces since 2009, some as young as nine years old, in response to the insurgency, Amnesty said. Most were arbitrarily detained and almost none have been brought to court, the rights group said, after receiving leaked military reports and interviewing 400 victims, witnesses and senior Nigerian security force officials.
President Muhammadu Buhari, who took office on May 29 after defeating Goodluck Jonathan in March elections, has vowed to crush the Islamist rebels. The military under Jonathan's administration was dogged with allegations of human rights abuses, which the armed forces have denied.
The report was "biased and concocted" and used "spurious" statistics, said armed forces spokesman Major General Chris Olukolade.
"The Nigerian military does not encourage or condone abuse of human rights neither will any proven case be left unpunished," he said in a statement e-mailed from Abuja. "No allegation has been sufficiently proved against those whom Amnesty International is so desperate to convict."
Garba Shehu, a presidential spokesman, declined to comment because he hadn't seen the report, he said by phone from Niger's capital, Niamey, where Buhari is on a state visit to discuss combating Boko Haram.
Violations Continue
Amnesty staff met with Buhari before his inauguration and shared the findings of its investigation with his office, though there hasn't been an official response, Netsanet Belay, Africa director at Amnesty, said in the Nigerian capital.
"We repeatedly shared our own findings with all levels of Nigerian military and civil authorities," Anna Neistat, senior director of research at Amnesty, told reporters in Abuja. "No action has ever been taken in response to these requests. All of these violations continued unabated," she said, adding that the authorities have accused the rights group of exaggerating the scale of the problem.
The allegations have limited U.S. assistance to Nigeria's battle against Boko Haram, which has been restricted by law against providing lethal arms because of the human rights record of the West African nation's military.
'Serious Threat'
Secretary of State John Kerry discussed new security cooperation measures with Buhari when he attended his inauguration, according to a U.S. official. That could include advisers to help with intelligence, military training, logistics and military justice, the official said.
While the allegations should be investigated, Buhari needs to be cautious not to create animosity within the armed forces, said Habu Mohammed, a professor of political science at Bayero University in northern Nigeria's largest city, Kano.
"He knows the expediencies of the security situation," Mohammed said in a phone interview. "It's always good not to create more enemies, especially at a time when you're confronting a very serious threat like Boko Haram."
Before it's here, it's on the Bloomberg Terminal.
LEARN MORE