Euro Bond Rout Wipes Out 2015 Profit as Inflation Returns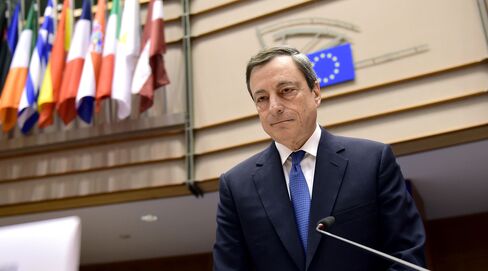 For the first time in 2015, investors in European bonds are sitting on a loss.
The securities tumbled on Tuesday after a report showed euro-area consumer prices rose in May by more than economists forecast, leaving them down 0.1 percent this year, according to the Bloomberg Eurozone Sovereign Bond index. As recently as April 15, the index was up 4.6 percent.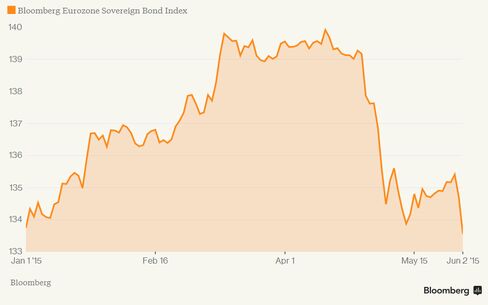 German government bonds held onto their biggest drop since 2012 Wednesday before European Central Bank officials gather in Frankfurt to set monetary policy. Data this week showed the ECB accelerated its 1.1 trillion-euro ($1.2 trillion) bond-buying program in May, before the region's summer vacation period.
"If the market believes the ECB will ultimately be effective, and that inflation expectations should revive and nominal growth will revive, then bond yields should keep going up," Laurence Mutkin, global head of Group-of-10 rates strategy at BNP Paribas in London, said in an interview on Bloomberg Television's "Countdown" with Mark Barton.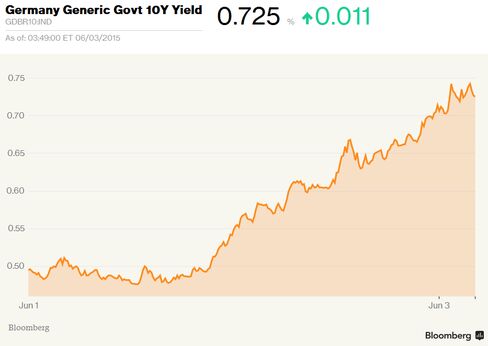 Biggest Gain
The yield on Germany's 10-year bunds, the euro area's benchmark sovereign securities, was little changed at 0.71 percent as of 10:03 a.m. London time. The yield jumped 17 basis points on Tuesday, the most since August 2012. The price of the 0.5 percent security due in February 2025 was at 98.04 percent of face vaue.
Bloomberg's Eurozone Sovereign Bond Index includes 345 securities with a market value of about 5.7 trillion euros and an average maturity of about nine years.
Tuesday's inflation figures, which showed prices increased on an annual basis for the first time in six months, will ease concern among ECB policy makers that the region is headed back into deflation, one of the threats that prompted them to unleash quantitative easing this year. Ten-year bund yields have surged from a record-low 0.049 percent on April 17.
The central bank will keep all three of its key interest rates unchanged at record lows at Wednesday's meeting, according to Bloomberg economist surveys. ECB President Mario Draghi will hold a press conference at 2:30 p.m. Frankfurt time to explain the decision.
Spain's 10-year bond yield reached 2.11 percent, the highest since November, before dropping seven basis points on the day to 2.02 percent. The yield on similar-maturity Italian securities climbed to 2.14 percent, also the highest since November, before falling six basis points to 2.07 percent.
Before it's here, it's on the Bloomberg Terminal.
LEARN MORE