Atheists, Gays and Boozers: Erdogan Maligns Rivals as Polls Narrow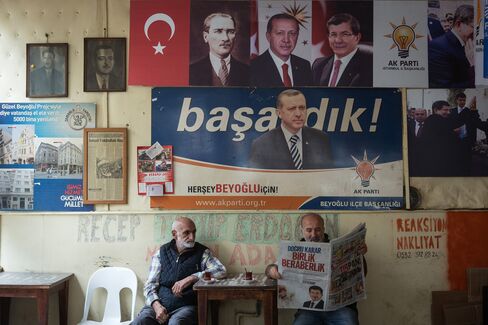 As the tightest election for a dozen years approaches in Turkey, the gloves are off.
President Recep Tayyip Erdogan and the leaders of the ruling AK Party are rallying their voter base with appeals to Muslim unity, labeling the opposition as a hodgepodge of gays, Zoroastrians and foreign-backed traitors.
In a country riven by often violent clashes over political identity, the campaign strategy is aimed at shoring up support among conservative voters ahead of a June 7 ballot that polls show is too close to call. The AKP's target is the upstart Peoples' Democracy Party, or HDP, which is aiming to enter parliament for the first time and prevent Erdogan's lawmakers from winning a majority and continuing to govern alone.
"Serious tensions remain between religiously minded factions, generally supportive of the AKP, and secular cadres backing the HDP," said Aaron Stein, a non-resident fellow at the Atlantic Council's Rafik Hariri Center for the Middle East. "And once this type of tension is ratcheted up, it's hard to put it back in the box on June 8."
The appeals are partly a reflection of the Islamist AKP's return to its roots and ambitions for Muslim leadership in a post-Arab Spring region. They're also tactical given the biggest electoral challenge since it took power in 2002, as the HDP, rooted in the Kurdish political movement, seeks to broaden its appeal with a message of national reconciliation.
Slim Margin
While the HDP's campaign emphasizes social tolerance, it hits back at Erdogan and the AK Party by saying they're pulling the country toward totalitarianism.
"What's being put before you on the ballot box aren't political parties, it's a choice about your free future," the party's co-chairman, Selahattin Demirtas, said at a rally in the western city of Bursa on May 29. "You'll make a choice between dictatorship or freedom."
The final polls before a 10-day blackout showed HDP set to cross the 10 percent parliamentary threshold by a slim margin, placing it behind AKP, the main secularist opposition CHP and nationalist MHP.
For voters like Okan Ates, a 48-year-old office worker, the AKP's strategy is a sign of desperation.
"They've got nothing left in their hands to play except religion," Ates said in an interview in Ankara last week. "They're going out with Kurdish Korans trying to get votes from HDP, painting them as homosexual, atheist and marginal."
Contradictions
The AKP rejects allegations of divisiveness, saying it represents all of Turkey's citizens, according to a response to Bloomberg questions from its media office on Wednesday. Criticism of some of the opposition parties' individual candidates is only meant to point out contradictions and hypocrisy in their campaigns, it said.
Erdogan, who's not in the race because the president is legally required to be impartial to political parties, has slammed the opposition and appealed for AKP votes. Most of his wrath is saved for the HDP.
In Kurdish regions in the east, he strode across podiums with a Kurdish-language Koran in hand, a controversial act in a country where the president's oath binds him to safeguard "the principles of the secular republic." He warned crowds that opponents are anti-Muslim and worshippers of an ancient religion with origins in Iran.
Zoroastrianism
"We have documents of them teaching Zoroastrianism in the mountains," Erdogan shouted at a rally in Kars, northeast Turkey, on Tuesday, linking the HDP to the Kurdistan Workers' Party, or PKK, which is outlawed and listed as a terrorist organization. "These people have no relationship whatsoever with Islam. My pious Kurdish brothers won't get behind them."
In a speech to bus drivers at the drivers' federation in Ankara on May 28, Erdogan painted the HDP as hypocritical by pointing out that it had chosen an openly homosexual candidate for the western city of Eskisehir.
"I don't exploit the feelings of my Kurdish brothers in the east and southeast, then clink glasses with White Turks in Istanbul," Erdogan said. "We're not the ones running a so-called muftu in Diyarbakir and a homosexual in Eskisehir."
A muftu is an Islamic scholar, while the term "White Turk" generally refers to secularist, upper-class Turks.
Baris Sulu, the HDP's 37-year-old candidate in Eskisehir, said Turkey had outgrown that intolerance and such remarks were signs that the opposition was on the right path.
"Gay citizens live in this country and have for years," Sulu, an architecture student who works for a transsexual advocacy group, said in a phone interview last week. "This is not an LGBT issue, it's a human rights issue," he said, using the abbreviation for lesbian, gay, bisexual and transgender.
Yet the AKP message has resonance among some Turks. Cigdem Alpaslan, a home-maker in Ankara who's the same age as Sulu, said she agreed with the party on homosexuality.
"I swear our president and the AKP are right," Alpaslan said. "Forget about these types getting into parliament. They shouldn't even be out on the streets."
Read this next:
Before it's here, it's on the Bloomberg Terminal.
LEARN MORE