Russia Oil Output Near Record Swells Global Glut Before OPEC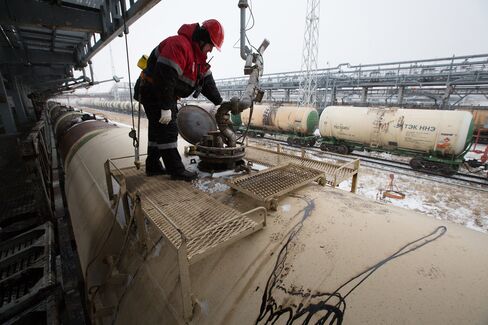 Russian oil output neared a record in May, damping speculation before OPEC meets this week that major producers may cooperate to curb a global supply glut.
Production of oil and natural-gas condensate climbed 1.6 percent from a year earlier to 10.708 million barrels a day, close to January's post-Soviet high of 10.713 million barrels a day, according to preliminary data from the Energy Ministry's CDU-TEK unit.
"Russian output has proven to be pretty resilient to the fall in prices, and they will not have a problem keeping production up for the next year or two," said James Henderson, who researches the Russian oil industry at the Oxford Institute for Energy Studies.
The Organization of Petroleum Exporting Countries, meeting June 5 in Vienna, will probably maintain its output target of 30 million barrels a day, according to a Bloomberg survey. Global supplies have continued to outpace demand six months after the cartel adopted a policy aimed at keeping its market share. Saudi Arabia and Russia are both pumping oil at near record levels.
Russia's May crude exports reached 5.06 million barrels a day, rising almost 2 percent from a year earlier while falling 5.7 percent from April, according to ministry data.
Tax Changes
Production increases were driven by condensate output from SeverEnergia, a Siberian joint venture between OAO Novatek and OAO Gazprom Neft. Novatek and Total SA also started their Termokarstovoye project in May and expect to pump 800,000 metric tons of condensate there this month.
Tax changes introduced in January to the Russian oil sector may also be giving producers a boost, OAO Lukoil's billionaire Chief Executive Officer Vagit Alekperov said in Moscow on Tuesday.
"The realization of the maneuver may positively influence oil output levels," Alekperov said in Russia's lower house of Parliament, the Duma. The CEO is due to meet with Iranian and Iraqi oil ministers in Vienna this week.
Production has continued to grow even after oil prices sank and the U.S. and Europe imposed sanctions against the industry over Russia's role in the conflict in Ukraine.
Russia produced 10.67 million barrels of oil and gas condensate in April, according to the Energy Ministry. Soviet-era crude and condensate production peaked at 11.48 million barrels a day in 1987, BP Plc data show.
Saudi Arabia, which led OPEC to refrain from cutting output at a November gathering, sees its strategy working, Oil Minister Ali al-Naimi said Monday in Vienna. That strategy sought to defend market share rather than cut production in response to a jump in oil output from the U.S.
"Saudi Arabia has announced the rules of the game, and Russia has no choice but to play by them," Henderson said. "Russia will keep producing as much as they can."
Before it's here, it's on the Bloomberg Terminal.
LEARN MORE