As OPEC ministers meet in Vienna this week they'll be debating whether the strategy that's upended oil markets is working.
The last time the Organization of Petroleum Exporting Countries met, in November, it jolted markets by leaving production unchanged instead of staunching a glut by trimming output. Prices collapsed to the lowest in six years.
OPEC said it wanted to "restore market equilibrium" with stable prices. That means flooding the market so oil drops to a level that forces higher-cost producers to scale back, ultimately pushing prices back up.
Now the 12-member group, which controls about 40 percent of world supplies, has to decide whether to change course or stick to its target. These charts illustrate to what extent the strategy has been paying off.
Producers are cutting back…
From Canada to Qatar and the Barents Sea to the Gulf of Mexico, energy companies are shelving or delaying projects following crude's collapse. Some of the world's biggest explorers have cut capital budgets from last year by as much as a third. In the U.S., the number of rigs drilling for oil plunged 60 percent since October to the lowest in almost five years. U.S. shale production started falling in May and the government expects the decline to continue.
…and feeling it in their stock prices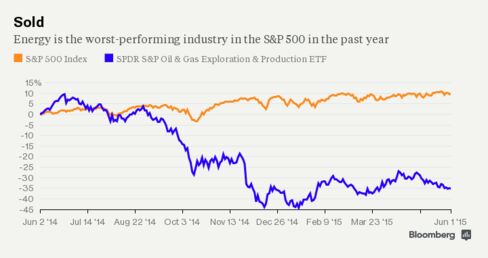 Investors are punishing U.S. drillers, and their stocks are missing out on the broader rally in U.S. equities. That makes it challenging for companies to continue raising the money they need to keep drilling. OPEC also has to watch its finances: Prices are too low for most member countries to break even, according to the International Monetary Fund and ING Bank NV. While Saudi Arabia, the biggest exporter, is burning through currency reserves, it still has $686 billion in store.
Don't Miss:
Before it's here, it's on the Bloomberg Terminal.
LEARN MORE