Chileans Bet Apple Will Pay a Premium for Clean Rare Earths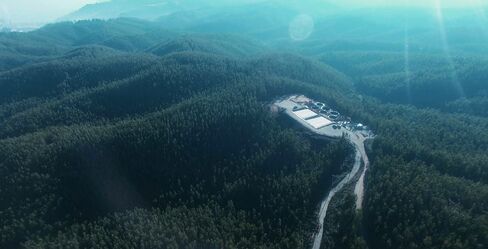 The future of rare-earth minerals used in everything from iPhones to Tomahawk missiles lies under the pine plantations of southern Chile, and in a secret formula, according to closely held junior miner Mineria Activa.
Elements such as neodymium and dysprosium are contained in clays near the city of Concepcion in concentrations similar to those found in southern China, which has all but cornered global supply until now. The similarities end there, Arturo Albornoz, who heads Activa's Biolantanidos project, said in an interview.
While operations in China typically pump ammonium sulfate into the ground and wait for the chemical to seep out with the minerals, at Biolantanidos the plan is to dig out the clay, put it through a tank-leaching process with biodegradable chemicals and return it cleaned to the ground, replanting pine and eucalyptus trees. It may be laborious, but Albornoz is hoping companies such as ThyssenKrupp AG, Apple Inc. and Tomahawk cruise missile maker Raytheon Co. will end up paying a premium, knowing their suppliers aren't destroying the planet.
"It's our big bet on green mining," Albornoz said from the project site, near the town of Penco, about 400 kilometers (250 miles) south of Santiago. "The chemicals may be more expensive, but we're saving in storage and handling of waste," with none of the tailings dams that disfigure the landscape in China.
Market Slump
Albornoz, a metallurgical engineer from Concepcion, declined to reveal the biodegradable chemical formula, which the company is in the process of patenting.
It's not the best time to be developing a rare-earth project, according to research firm Stormcrow Capital Ltd.
Prices have declined in recent years after China said it would comply with an order from the World Trade Organization to end export quotas imposed in 2010. Yttrium for example, which is used in jet engines, has tumbled 33 percent in the past year, while neodymium oxide is down 8 percent and dysprosium oxide is down 2.2 percent, according to prices at the Shanghai Metals Market.
"This is leading buyers to wait to restock, since tomorrow's price will probably be lower than today's and this has even spread into China," Stormcrow President Jon Hykawy said in an e-mailed response to questions. "It isn't a pretty market right now."
Companies that invested during the rare-earth boom have been pummeled in the past year. Molycorp Inc. shares are down 84 percent over that period and on Monday the Greenwood Village, Colorado-based company said it would miss a bond coupon payment. Lynas Corp., one of two major producers outside China, has slumped 73 percent in Sydney.
Rock vs Clay
The rock mining conducted by Molycorp and Lynas is usually costlier than clay and yields higher percentages of less valuable elements such as lanthanum and cerium, Activa's Chief Executive Officer Ignacio del Rio said.
There are also doubts on whether Activa will be able to demand a premium for being more environmentally friendly, according to Stormcrow's Hykawy.
"Buyers are certainly willing to take a secure supply chain and green production, but only if pricing is, at worst, no higher than the existing Chinese prices," Hykawy said.
Global output of rare earths is about 130,000 tons a year, of which heavy varieties account for 30,000 to 40,000 tons, Albornoz said.
Activa and its partners have invested about $20 million in Biolantanidos, which is in contact with potential buyers of concentrates. It intends to begin producing by the end of 2016.
If they get enough buyers, the company intends to build small processing plants in the plantations where the clay can be leached and then returned to the ground. When the surrounding clays are used up, the process will move to another site nearby. With the mining rights to 2,000 square kilometers (772 square miles) of land, Activa estimates production of as much as 2,500 metric tons of concentrate a year, with potential to boost annual output to 10,000 tons after a couple of years.
The company is also considering building a separation plant to sell purified metals, gaining access to a higher number of potential buyers.
"We're confident we can sell our concentrate at about 4 times our cash cost," Del Rio said.
Before it's here, it's on the Bloomberg Terminal.
LEARN MORE