Amazon.com Inc. is introducing free shipping on thousands of popular, smaller items -- makeup, mobile phone accessories, earplugs -- in its Web store, without requiring a minimum order.
The new initiative applies to all customers, including those not enrolled in Amazon Prime, the annual membership program that includes two-day shipping, the company said on Tuesday. Amazon is using the free shipping program to target cost-conscious shoppers, a group that EBay Inc. is courting.
Amazon Chief Executive Officer Jeff Bezos has focused on increasing the value of the $99-a-year Prime membership, adding same-day delivery in big cities, video streaming and music. By offering free shipping, the Seattle-based online retailer will be able to target a wider pool of customers and market its services, including Prime membership.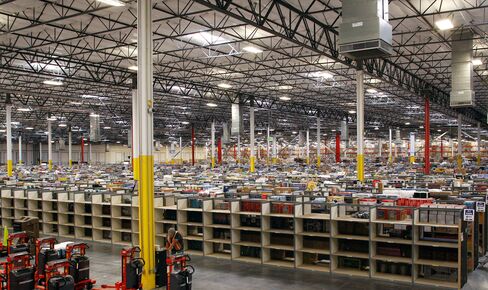 "Maybe the thinking is they can break even on these transactions and that's all they really need to do," said Sucharita Mulpuru, an analyst at Forrester Research Inc. "That fits the Bezos playbook."
The new offer gives online shoppers an opportunity to order inexpensive goods one at a time without worrying that shipping costs are more than the price of the item or feeling compelled to buy additional products to meet a free-shipping threshold. The service covers items that weigh 8 ounces (230 grams) or less, which usually cost no more than $10. Delivery will take four to eight business days from a new shipping hub in Florence, Kentucky, specifically stocked for the program dubbed Fulfillment by Amazon Small and Light.
Third-Party Sellers
Most of the inventory will come from hundreds of third-party merchants that give Amazon a cut of each sale for handling storage, packaging, delivery and customer service. It is Amazon's latest move as an online marketplace and logistics company connecting buyers and sellers.
Offering free delivery of low-cost items is a move to gain market share from competitors such as Wal-Mart Stores Inc. and Target Corp., but it won't help Amazon become profitable, Mulpuru said.
Amazon started the program on a trial basis 13 weeks ago. The company introduced it Monday after seeing that items targeted for free shipping without a minimum order threshold sold more quickly than they had previously. Non-Prime members usually have to order $35 in items to qualify for free two-day delivery.
"Customers love that even if it's a $5 item, shipping is free for everybody, Prime member or not," Neil Ackerman, a senior manager at Amazon, said in an interview. "Customers love it and sellers love it."
Before it's here, it's on the Bloomberg Terminal.
LEARN MORE